Morgan says goodbye to a notable homecoming tradition
Dexter Nixon, Morgan State graduate of 1994 and senior producer of the campus' digital media center, described the academic quad, located on the south side of campus, as a hub for student activity. More than 20 years later—nothing has changed.
"That's where you got all the information for what's going on later that day, that week, that year," Nixon said. "In the 1990s the McKeldin Center was Morgan State's Student Center."
With the quad's historical significance to the community, it serves as the location for the university's annual homecoming yard fest.
While many congregate outside, McKeldin and the Martin D. Jenkins Behavioral Science Center, also referred to as "Old Jenkins," serves as the center point of the evening's festivities.
This is seen as a yearly tradition for most students and alum, but Morgan State President David Wilson was unaware of what was taking place in the historic campus building.   
"I was unaware we were opening our academic buildings up," Wilson,  said in a meeting earlier today. "That piece, if you will, must stop— it must cease and desist."
The highly anticipated event generated an enormous crowd on Saturday, Oct. 13. Not only did the attendees overpopulate the quad, but they gridlocked the Welcome Bridge, located on the south side of campus. 
#MSU152 🔶🐻🔷 pic.twitter.com/5MTgEhAN1l

— 𝓝𝓪𝔂𝓿𝓪𝓭𝓲𝓾𝓼♊ (@ShadoSolo) October 13, 2019
At 10:21 p.m., Morgan State Police received reports of a fight in the area by the Welcome Bridge and had received several reports of hearing potential shots being fired. They encouraged students and alum to avoid the area. 18 minutes later, MSUPD arrived on the scene and determined that no shots had been fired and that the crowd had been dispersed.
"When I came on campus Sunday morning, I must admit— I almost shed a tear," Wilson said.
The day after the yard fest, a substantial amount of debris was left scattered around the university and due to its enormous amount,  additional disposable garbage containers will be set up in preparation for next year's yard fest.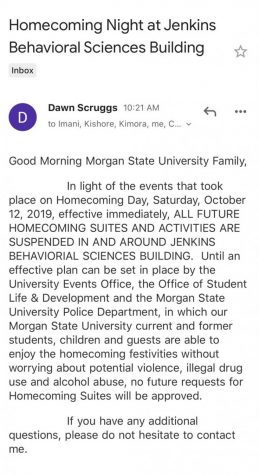 After news circulated that students smoked in Old Jenkins and McKeldin, rumors about the potential suspension of homecoming's traditional location began to circulate on Twitter.
Malik Whatley, Morgan alum and member of the Beta Alpha Chapter of Alpha Phi Alpha Fraternity, said that Old Jenkins was the first place he was introduced as an Alpha to his family and friends. 
"This is a spot on campus we cherish," Whatley said. "The nostalgia of that area, I probated there, in the pit, right in front of Jenkins."
With Wilson's newfound knowledge of students' misuse of university property, he declared an end to student activity on the property of McKeldin and Old Jenkins. 
"I believe the alumni who reminisce and come back to remember the campus, that is our space," Nixon said. "Those who were there in the '90s and earlier that is our space—the yard, the bridge."