Morgan Bears fall to Central 27-17
A brand new turf wasn't enough to turn the luck of Morgan State's football team around. The Bears fell to the North Carolina Central Eagles 27-17 in their season home opener.  
The Bears found their way to the red zone early and often in the first half, but only came away with 3 points. The first trip resulted in a turnover on downs and the next two ended in interceptions from quarterback Deandre Harris. 
"The most physical and disciplined team will win, and they came out and they wanted it more," said head coach Tyrone Wheatley.
Harris finished the game with two interceptions and 67 passing yards. North Carolina Central's offense was led by their unique rushing attack.
Harris expressed disappointment in his role during the game.
"My leadership today was unacceptable," he said. "I didn't come out here with the intent to execute."
They piled up a total of 330 yards on the ground with 52 carries. The team had four rushers run for at least 50 yards and each of them averaged four yards per carry. Isaiah Totten led the team in yards with 112 on 26 carries.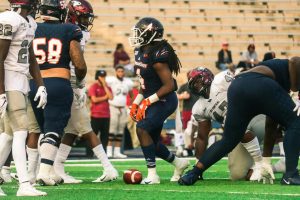 Although the Bears' defense was on the field for much of the first half, they only yielded 13 points. They started the second half with a fumble return for a touchdown by defensive end Malachi Washington, making the score 13-10. 
While the defense was making plays, the Bears' offense continued to make mistakes. With wayward passes, penalties, and high snaps the miscues limited the offense.
Their hopes of a comeback faded when the Eagles scored back-to-back rushing touchdowns by Latrell Collier and Davius Richard after the Bears' offense turned the ball over for the third and final time. 
"We couldn't stop the run and I personally feel like I didn't have a good game," said linebacker Ian McBorrough. "As the leader of the defense I take full responsibility for what happened tonight."
Morgan State (0-4) will look to bounce back as they head on the road to face their next opponent, Bethune-Cookman (3-1) on Oct. 5.