Popeyes vs Chick-fil-A—Spokesman staff weigh in
Produced by Oyin Adedoyin and Brianna Taylor and Edited by Jabray Franklin
On Friday Aug. 23, junior chemistry major Khayra Alabrash left her last class of the day on a mission. She had made plans the day before to drive to the nearest Popeyes with her friends to finally try the new chicken sandwich. 
By the time they arrived at the York Rd. location at 8 p.m., Alabrash and her friends were disappointed to find that they had sold out of the sandwiches for the day. 
"We were crushed," she said.
She proceeded to call other locations nearby in search for the sandwich, but no one answered. 
"So we were like 'let's just get some plain old chicken since we're here,'" she said. 
Long lines have flooded the doors of Popeyes across the country for more than a week and it started with one tweet.
Chicken. Brioche. Pickles. New. Sandwich. Popeyes. Nationwide. So. Good. Forgot. How. Speak. In. Complete. Sandwiches. I mean, sentences. pic.twitter.com/14kXBv4jJw

— Popeyes Chicken (@PopeyesChicken) August 12, 2019
When the fast-food restaurant unveiled their new $3.99 chicken sandwich with a tweet on Aug. 12, people immediately began to compare it to Chick-fil-A's original fried chicken sandwich.  
Unlike Chick-fil-A's $3.05 sandwich, Popeyes' is equipped with a "buttermilk battered chicken fillet [and] your choice of spicy Cajun spread," according to their website. Spokesman reporters who tried the sandwich said, the cajun spread was the key component that set the two sandwiches apart. 
Tensions began to rise on social media when Chick-fil-A tweeted a response to Popeyes's announcement, listing the components to their original sandwich.
 Popeyes responded with less than three words, "…yall good?"
Within a matter of hours, the "who has the better sandwich?" debate began to trend on social media.
Morgan alumnus Marcus Patterson created a meme that circulated on the social media pages of Morgan students. The image showed four well-known chicken sandwiches with the names of Maryland universities above each sandwich. Morgan was paired with Popeyes, Bowie State was compared to Chick-fil-a, he paired Towson with Wendy's and Coppin State with McDonald's McChicken.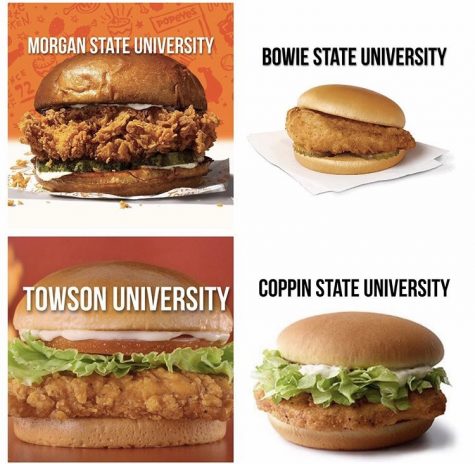 "It might be biased for me because I received the best experience from Morgan," he said. The former Mr. Morgan has had four Popeyes chicken sandwiches so far. While Patterson applauded Chick-fil-A for their consistency, he acknowledged that he preferred the Popeyes sandwich. 
People across the country joined the conversation by posting their journey from purchasing the sandwich to filming their reaction. 
More than a week has past and the conversation has begun to grow violent. In fact, due to the long lines the trending sandwich has brought to several Popeyes locations—disgruntled customers have incited violence onto its employees.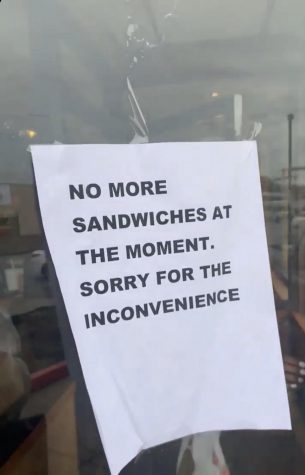 Some locations have created a sale limit per-customer, while other establishments have opted to halt the sale of the trending product altogether.
In a little over a week, Popeyes has grossed $23.5 million equivalent in media mentions, according to Apex Marketing Group.
Chick-fil-A workers say, however, that the increase of popularity in Popeyes' chicken sandwich hasn't decreased the demand for Chick-fil-A's.  
The question becomes: Has Popeyes experienced its five seconds of fame or will it capitalize on its new-found popularity?
Patterson, for one, doesn't see this lasting very long.
"It's going to die down eventually."