Veteran journalists offer crash course on telling the stories of people of color
Oyin Adedoyin & Brianna Taylor, Spokesman Staff Writers
August 12, 2019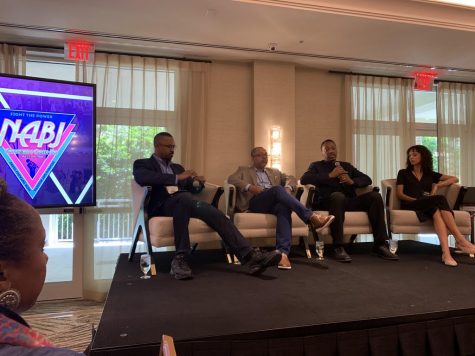 MIAMI — There is a constant debate about how the stories of people of color should be told. Should the responsibility rest on black and brown shoulders? Are there too many negative stereotypes in stories that are racially charged? Should reporters be cognizant of word choice when approaching these stories?
A common current runs among all of those questions: there's still work to be done.
The Annie E. Casey Foundation, a community organization in Baltimore that focuses on the well-being of youth, hosted a conversation at the National Association of Black Journalists (NABJ) convention in Miami on shaping media narratives about older black youth and young adults with a panel of three professional journalists.
The New York Times' national immigration reporter Caitlin Dickerson said that when it comes to immigration reporting people usually think that they already know the story.
"It's either a sympathetic family who is deserving of being allowed into the country who is automatically thought of as somebody who is deserving and sympathetic," Dickerson said. "Or somebody who is automatically thought of as trying to jump through a loophole…or exploit the system."
To offset this phenomenon, she said always tries to make sure that she has more immigrants and people of color in her stories to speak for themselves and looks for the unique piece of the story in her subjects.
"In all my stories I just try to show people in their fullness because neither of those two stories are true."
Dickerson said that this was also true for stories about young black men.
Kevin Merida, senior vice president and editor-in-chief of ESPN's The Undefeated, mirrored the same technique when approaching his award winning series in The Washington Post, "Being a Black Man," which explored the lives of black men in America and their experiences.
"One of the things that we struggle the most with are those black men who are the scariest black men in society," Merida said.
Merida was referring to the 2 million black men who are in and out of the criminal justice system and how the media portrays those who are trying to get out of the system.
As part of the series, he spent some time with a man named AJ who sold drugs and had gone to prison on murder charges. He learned that, during his time in prison, AJ started writing his own novels and developed a liking for it.
"[AJ] wrote three and then four…his whole sense of what he could become changed," Merida said.
The panelists passed the torch to the Generation Z emerging journalists and encouraged them to define American culture in their reporting.
"You not only have the responsibility to tell a better story about us, a more accurate story about us, but you have an unprecedented opportunity," Merida said.
Merida said he disagrees with the idea that some black journalists perceive that they have to carry the entire black community in a newsroom where they are the minority.
"Nobody knows what it's like to be black more than we do," he said. "I do think that it ought to be everybody's responsibility, including those who lead newsrooms, to make sure that all of us are covered in full and understood."
A contingent of Morgan State University students representing the School of Global Journalism and Communication are attending and covering the annual National Association of Black Journalists in Miami. This story is part of that coverage.