Journalists get website training at Innovation Bubble with WordPress
MIAMI — Equipping journalists with the necessary tools and knowledge to build a basic website was the theme of the Innovation Bubble workshop sponsored by WordPress at the National Association of Black Journalists (NABJ) Convention in Miami.
Participants, including  journalists, media professionals and students were given an in-depth one-hour training by WordPress developers Ola Olusoga and David Cole.
WordPress is among the world's most popular tools for creating any kind of website; from a simple blog to a full-featured business website. Using a WordPress template, participants were taught how to create a one-page website with images, videos and text.
"If you are a journalist just starting out and you don't have much content, a one-page website might be a good thing for you," said Olusoga.
The training included such website development details as the use of plugins, the importance of choosing the right fonts, and the use of social media to boost the website's visibility and increase engagement.
The need for increased website traffic was top among the range of questions that were asked during the workshop. The facilitators said several simple but important principles should be taken into consideration when creating and sharing content.
"Aim for 1200 words and ensure your articles have key words to improve ranking," said Cole. "The title of your articles should have a big, bold font while the content should be light and legible."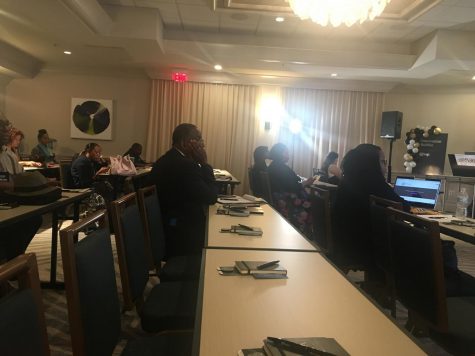 Participants at a Word Press panel at NABJ convention in MiamiWith new features being added to WordPress every day, users need to stay updated. The latest version, WordPress 5.2.2, was released in June – an upgrade from December 2018.
Content management is made easier in the latest version with a new editor program code-named Gutenberg, which allows users to create beautiful layouts using content blocks.
Following the workshop, journalists who wanted to learn more about building their personal websites had an opportunity for one-on-one training with the facilitators.
A contingent of Morgan State University students representing the School of Global Journalism and Communication are attending and covering the annual National Association of Black Journalists in Miami. This story is part of that coverage.