Morgan's 143rd spring commencement honors past and reaches to future
Rep. Cummings challenges grads to "stand up for our democracy."
Oyin Adedoyin, Staff Writer
May, 1969 was the last time that Audrey Hill walked out of Holmes Hall, put down her golf club and crossed the Welcome Bridge as a student of what was then called Morgan State College.
Fifty years later, while much has changed, many things remain the same for Hill, Morgan's first female golfer, who reminisced Saturday during Morgan State University's spring commencement.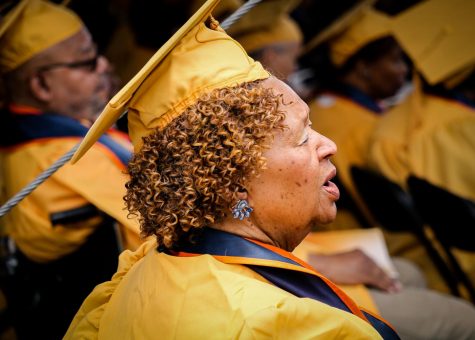 "You can't get over Holmes Hall, that will always be an icon for us," said Hill. "The north side of the campus has changed tremendously but the major buildings are still there."
Hill and other members of the 1969 class were recognized Friday on the occasion of their 50th anniversary. That class donated $1.4 million to their alma mater at yesterday's alumni luncheon.
"We are very pleased and honored this morning to have a record number of 50-year anniversary classes joining us with the class of 1969, 109 of those graduates are with us this morning," Morgan President David Wilson said.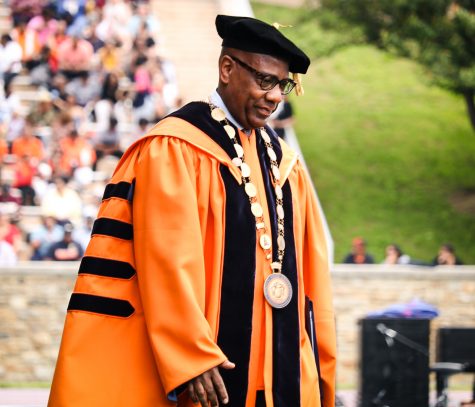 Hill said the class of '69 hopes that their donation goes towards scholarships for both students who are already enrolled and aspiring Bears.
Rep. Elijah E. Cummings (D-Md.), who is also a member of the Board of Regents, delivered the commencement address to the more than 800 bachelor's degree recipients as he shared the adversities he faced in his childhood.
"I spent my earliest years living in a small rented row house in South Baltimore. We lived near Fort McHenry—where the Star-Spangled Banner still waves," Cummings said. "Like all American children, I recited the Pledge of Allegiance to that flag every morning. I must tell you, though, that I had to question whether those inspiring words about 'liberty and justice for all' included me."
As the son of two sharecroppers, growing up in the era of segregation, Cummings' aspirations of becoming a lawyer were often eclipsed by his circumstances.
"I was trying to learn in what was then called the '3rd Group'. Today, we would call that placement, 'special education,'" he said.
Cummings was encouraged by the counselors and teachers who believed in him and nurtured his growth.
"They took my Big Dream and made it their own," said Cummings. "So, I kept working hard. The day finally came when I made it out of the '3rd Group.'"
Niraje Medley-Bacon, student regent and political science major, who worked with Cummings last summer, also attributed her success to the role models, teachers and mentors at Morgan who encouraged her.
"I didn't know anybody when I came to Morgan," Medley-Bacon said. "I just hopped in and took many leadership positions, made myself uncomfortable and ultimately led to me serving in this great leadership position so I definitely relate to the idea of just maximizing your potential."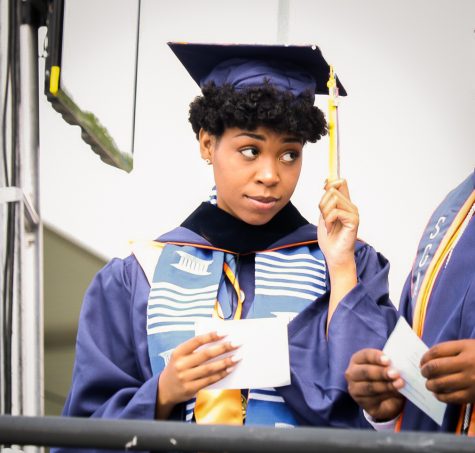 Medley-Bacon will study law at the University of Virginia this fall.
"I do want to practice in New York City and through my pro bono work make the world a lot more just," said Medley-Bacon.
The inspiring work that Medley-Bacon is committed to relates to the ongoing struggle against wealth and education disparities between historically black colleges and universities (HBCU) and primarily white institutions (PWI).
Morgan State, Coppin State, Bowie State and the University of Maryland Eastern Shore sued the state of Maryland in 2006 under claims that the state was not funding these public institutions justly in comparison to other PWIs.
"Once again, as in our past, our nation is struggling to overcome forces of societal conflict, official inhumanity and calculated distrust that far surpass anything that we have been forced to endure in the last five decades," Cummings said.
He encouraged the graduating class to stand up for themselves and their communities on both the local and national levels.
"What I do ask of each of you, and especially our graduates, is to call upon the talents and education that you have received to stand up for our democracy in your own communities."