Lady Bears honored at senior night
Three Morgan State Lady Bears were honored Thursday, Mar. 7, at the Mid-Eastern Athletic Conference (MEAC) matchup versus the Coppin State Lady Eagles.
Forwards Adre'onia Coleman, Naomi Bolasingh and guard Kayla Horn were all applauded for their career at Morgan before they clashed with their Baltimore rival, Coppin.
Head Coach Ed Davis said of his seniors that he enjoyed watching their growth over the years as leaders and players, in addition to being pleased with their effort.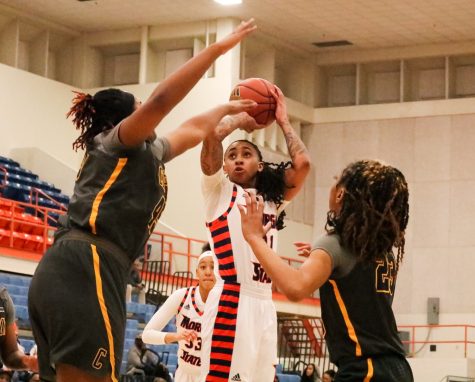 The three seniors put on a show for their fans during the final home game at Hill Field House. Coleman finished with 15 points, Bolansingh with 14 points and Horn with four points and three assists.
Coleman, a Baltimore native and leading scorer for the Bears, averaged 13 points and seven rebounds a game during her career. Coleman arrived at Morgan in 2017 however, had to sit out because of the National Collegiate Athletic Association (NCAA) transfer rules.
Before being a leader for the Bears, Coleman was playing for the Monroe Community College Lady Tribunes where she also dominated. The philosophy major Coleman averaged 11 points per game and eight rebounds for the Lady Tribunes.
Coleman finished her career at Morgan with 13 double-doubles. Her other career achievements include 26 points against the University of Maryland Baltimore College, 16 rebounds versus University of Maryland Eastern Shore and 11 free throws made versus North Carolina Central University.
Bolasingh, on the other hand, transferred from Northwest Florida State College and averaged five points and two rebounds per game for the Lady Bears.
Injuries hindered the New York-bred's career she was only able to play in 17 games. Twice in her inaugural season for the Morgan Lady Bears Bolasingh was sidelined because of a torn labrum.
However, Bolasingh was very grateful toward her teammates and coaches for their support during her tough beginning of her Lady Bears career. In addition, was very happy she could get healthy and support the team.
In a full season for the Bears during the 2018-2019 season Bolasingh set multiple career highs. This includes 14 points against the Lincoln University Lady Lions and six rebounds at Maryland-Eastern Shore. The public relations major also set a career high in steals during her inaugural season with five.
Horn, another transfer, arrived from Kansas City Kansas Community College and is from Wayne, MI. During her brief stint at Kansas City Kansas Community College, she averaged seven points and three assists per game.
Upon officially wearing the blue and orange, Horn averaged three points, an assist and a rebound in 31 games and three starts in her first season as a Lady Bear. She also scored a career-high 16 points against Marshall University Thundering Herd.
During her senior season, Horn would increase those averages. In her 2018-2019 season, the Michigan native averaged six points, three rebounds and two assists per game.
Horn career highs include seven rebounds versus UMBC, seven rebounds at Coppin State and five steals in versus Lincoln University.
Horn said she really enjoyed her time at Morgan State especially because it is an HBCU. Horn repeatedly mentioned her love of the HBCU culture and experience.
However, the season doesn't end here for the senior Lady Bears as they travel to Norfolk, VA to play the Coppin State Lady Eagles in the MEAC tournament Monday at 3:30 p.m.