NFL prospect Joshua Miles represents MSU during the 2019 Scouting Combine
Offensive lineman, Joshua Miles, demonstrates "athleticism and hard marketing" coming from an HBCU.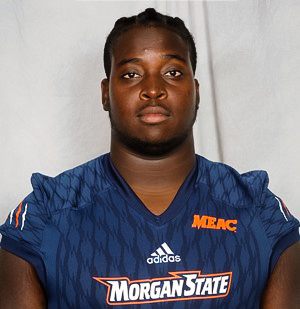 The annual NFL's Scouting Combine will come to an end on Monday after Morgan State University was represented for the first time in its history by offensive lineman, Joshua Miles, jumping higher than any other lineman in the past decade.
The seven-day event was hosted at Lucas Oil Stadium in Indianapolis, IN and it was the last stop for college players before they are selected to go pro.
Players performed through an athletic test by completing a series of tasks that correlate to their specified position, while they were timed and watched by scouts.
Typically, smaller schools like Morgan are underrepresented because they are in the shadow of larger schools that represent larger divisions. Miles not only represented his institution, but the overall Mid-Eastern Atlantic Conference (MEAC) where games are rarely shown on ESPN.
Miles, coming off an impressive Shrine Game performance, was just one of three Historically Black College and Universities (HBCU) players invited to this year's scouting grounds.
"I was looking forward to show my athleticism, my overall intelligence and hard marketing coming from a small school," said Miles.
"It felt good being there and being validated because over the last few years, I felt overlooked," said Miles. "They also tend to overlook HBCUs."
Miles clocked in at 5:33 on the 40-yard dash and had a 36-inch vertical jump. This jump now makes him one of nine offensive linemen to jump 35-inches or higher in this drill since 2000 despite his 315-pound weight.
He also has a long wingspan measurement of 84.7 inches, which landed him in the 92thpercentile among offensive linemen.
"I didn't expect it to be that high, but it felt nice because it shows I have explosiveness at 315-pounds. It also shows that HBCUs have players ready to play," Miles added
The more demanding drills required players to play different positions among the offensive line.
According to Miles, the concept for any position is the same. They focused on-change of direction and lower body flexibility. Although Miles is primarily an outside tackle, he can play any position needed.
He actively seeks to out to, "be the swiss army knife." And at the combine, Miles showcased his sport ability to be coached and still learn new things to help him improve.
"Any team that drafts me will get the best draft pick in decades and I'm ready to soak up all the information I can like a sponge," said Miles. "They will get 200 percent and I will take my game to the next level."