Joshua Miles becomes the first Morganite in the Shrine game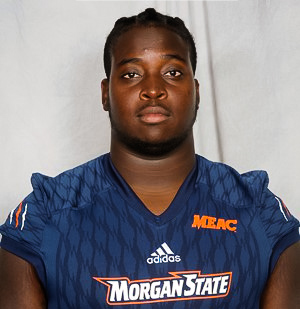 Saturday, January 19, marked the 94th annual East-West Shrine Game in St. Petersburg Fla. Among those selected to represent Morgan State University was offensive tackle Joshua Miles.  
Miles is the first player in the school's history to represent Morgan in the Shrine game which yields the best players from each conference and presents the potential next big-name stars to enter the NFL.  
It is essentially an All-Star game for college players. Scouts and NFL coaches are present to see which potential players will be able to make that next step to a professional football career. Those who were selected practiced all week and met with representatives. 
"It was an amazing honor and I knew that I was destined for something great around this time. The bowl itself was just a part of God's plan and I worked hard for it," said Miles. 
After he missed the entire 2017 season, due to academic ineligibility, when he returned in 2018 Miles allowed only one sack all year according to team statistics. He also helped lead the Bear's offense to 3,250 total yards.  
Miles credits his mom and uncle as two of the biggest influences in his life.  
"My mom is a hard worker and she is very passionate about what she does, so I modeled my passion after that. My uncle was very intelligent, and he worked very hard in pursuit of education." 
Miles was determined to have a break out year after sitting out last season.  
"I worked very hard during the offseason, made a vision board, and wanted to beat big rival teams."
Being invited to the East-West Shrine Game is no small accomplishment. This means that your play has received national attention and there is a possibility to get drafted into the pros. At practice, he received the attention of scouts with his aggression in drills and a good frame.  
"It was good to get NFL experience and a feel for the style of coaching. It was also nice to see how I measured up against the bigger schools." 
Miles met with officials from the Carolina Panthers, New York Jets and Atlanta Falcons throughout his week at practice.  
He is anticipating on becoming the first player from Morgan drafted since the Giants tight end Visanthe Shiancoe in 2003, who played in the league for 10 years. 
After his performance at the game, Miles received an invitation from the NFL Scouting Combine. The combine is the last place for top college prospects to show off their skills for scouts. It begins on February 26th, 2019.