BGHC partners with Washington Capitals for diversity within hockey
Black Girls Hockey Club (BGHC) and Color of Hockey (COH) partnered for their first inaugural meetup at the Washington Capitals v. Buffalo Sabres game Dec. 15, to bring awareness to minority representation in professional hockey for the broadening scope of diverse hockey players. 
Renee Hess, founder of BGHC, has been a hockey fan her entire life but often found herself alone amongst her peers. The idea to create a black girls hockey blog paved the way for her to meet others like herself.  
"I really wanted to make a community for black women in hockey— black women hockey fans, hockey moms—that we don't really have the face in the hockey fandom and so that's what the black girls' hockey club is, it's just a safe space for women of color and their allies," said Hess. 
She also described how the social media following for the group helped bring other hockey fans who were also black women together.  
"It's really been a word-of-mouth thing and we are on social media like Twitter and Instagram that was really how we started by putting a call out on social media for black girl hockey fans: Who are you? Where are you? Let's get together," Hess said. "I've never been to a [hockey] game in this capacity with a whole bunch of black women."  
Kelsey Koelzer, a 23-year-old professional hockey player for the Metropolitan Riveters and Princeton University graduate, was drafted in the relatively new National Women Hockey League (NWHL) in the summer of 2016.  
Koelzer, a Pennsylvania native, recalled growing up in a predominantly white populated sport and explained how it motivated her to cultivate her craft because her teammates did not see color or gender. 
"Growing up playing ice hockey as a minority and a female was definitely out of the ordinary," said Koelzer. 
As an African American woman, she described the pressure to not only succeed as a professional but to be a positive example for children.  
Younger African American female hockey players such as BGHL's members Cloe Brinson are inspired by her drive for inclusiveness. "I would love to be in her place one day," said Brinson. 
"I'm honored to be considered a role model for other young African American girls growing up. It's a few far and between female minority player in any type of league. Knowing the pose that comes with is pressure, but it's welcomed pressure," said Koelzer.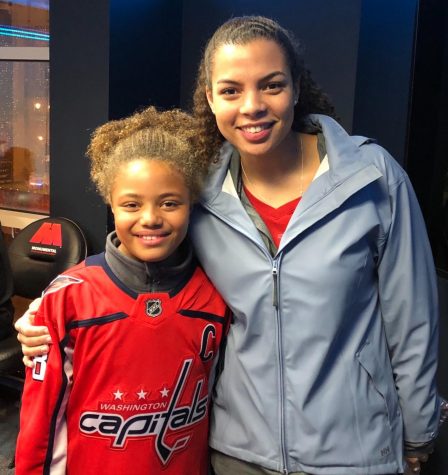 The Princeton graduate also stressed the importance of education.  
"Obviously hockey has always been the dream. When I first started college NWHL has not come to fruition yet. So, I always know that I needed to get an education to continue playing hockey or hang up the skates and make a name for myself that way."  
Through the joint efforts of the Washington Capitals and the National Hockey League, BGHC and COH hosted this year's third meetup at the Capital One Arena in Washington D.C. 
The issue of minority representation in hockey has continuously sparked the interest of the Washington Capitals and they've been active in the conversation of inclusiveness. 
Peter Robinson, Washington Capitals Director of Community Relations, explained the team's efforts to bridge the racial gap in hockey began with their partnership with Baltimore City Recreation Parks in 2010.  
The Capitals have donated to fifteen different community centers inside the inner city of Baltimore, providing equipment and support for both the teachers and students of the sport, according to Robinson. 
He explained that, due to Washington Capital's donation and active involvement, the children have found a passion for the sport that was once foreign to the community.  
"Now they're arguing over rules and they're competitive, [hockey's] been embraced and it's awesome," said Robinson.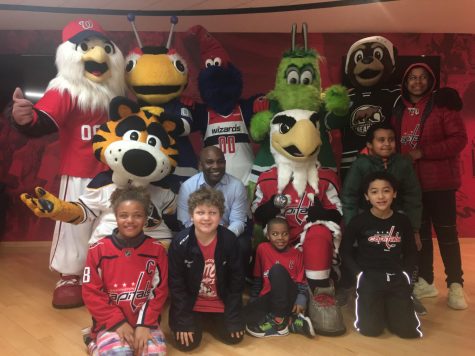 Morgan State was the first HBCU to screen the film on campus and hold a panel discussion on the issue of blacks in hockey.
Kwame Mason, director of Soul on Ice, Past, Present, and Future, a 2015 documentary that highlighted the history of contributions of black athletes in hockey, shared the inspiration behind his documentary.  
"The history of contributions of black athletes in the game of hockey. I felt that there was a void that was missing about our history in the game since nobody else was doing it I thought I might as well do it so that we can get content and celebrate our history in the sport," said Mason. 
Mason was also able to connect BGHC with the NHL. 
"Renee reached out to me and she was talking about my film…she told me that she was starting black girl hockey club and my wheels started turning and I was like 'we could do a little bit more than just have you guys out there let's try to connect you with the National Hockey League.'" 
According to Mason, the future of hockey depends on inclusion.   
"If you think of where our demographic, especially in the United States, are going to be over the next 10, 15, 20, 30 years it's going to look a lot different and if the sport of hockey wants to grow it's going to have to get into the minority communities," he said. "I think what the Capitals are doing is perfect and they're just ahead of the game."  
BGHC's next meetup is set for January 19, 2019, in Las Vegas.