Morgan State partners with ESPN's The Undefeated
No Ceilings discussed the image, depiction and characterization of the black female athlete.
Morgan State University partnered with ESPN's The Undefeated Tuesday to present a discussion on the challenges black female athletes face in sports.
The event titled No Ceilings, was a conversation focused on the various stereotypes and discrimination of the group and how they deal with a society where the black woman's voice is constantly mocked and they have to work twice as hard as men.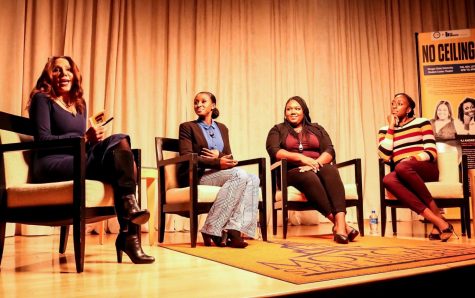 The panelists included WNBA player and President of the WNBPA, Nneka Ogwumike, Akron Racers team member, AJ Andrews, and Dr. Amira Rose Davis, assistant professor at Penn State, who exchanged views on the various perceptions and comparisons themselves and others have encountered.
Before the panel began the audience was reminded of a few notable incidents where black women in professional sports were publicly made of mockery of. In 2007, during a radio show, Bernard McGuirk and Don Imus both referred to the Rutgers University women's basketball team as both "hardcore ho's" and "nappy-headed ho's."
Furthermore, junior Valencia McDowell, who does mid-distance for the track and field team, described how she hasn't faced much discrimination in college, but at North Point High School it was common.
"Since I am an athlete, and I do run track and field my body is muscular," McDowell said. "So in high school, I would get a lot of 'why are you so manly,' 'why do you look this way?"
More incidents include the numerous time's professional tennis player Serena Williams has been compared to a gorilla and other animals or when her sexuality is questioned because of her muscles. In addition, both Serena and her sister Venus have been told they have a higher chance of appearing in National Geographic than Playboy magazine.
Dealing with constant scrutiny it's important to be as mentally tough off the court or field just as you are on the court. The non-stop disrespectful comments can be annoying, however, athletes have to be able to ignore those remarks every day.
Both Ogwumike and Andrews mentioned that though it may take time, athletes have to block out the doubters or naysayers because no one knows yourself better than themselves. Also, if an athlete knows what a person is saying is not true they shouldn't let it affect them.
Although, Ogwumike stated that "trolls" don't bother her personally, but it bothers her when it affects someone she knows.
"When I see whether it's my sisters engaging or sometimes my mom gets riled up I try to get people to understand the perspective that is what [the trolls] out there to do and it is at all not taking away from your value you have to always remember that," Ogwumike said.
In addition to discrimination, the first woman awarded the Rawling's Gold Glove, Andrews, touched on why it is important to not confine yourself to what society place on you.
Andrews recalled a moment after a game, which may have been a bad game for herself, where a mother said her daughter called Andrews her favorite player and how she looks just like her before addressing how it affected her.
"I feel like I've struggled at least with the stereotypes that [comes with] being a minority in the sport that I play. I'm typically the only black person on my team. It's just cultural differences between myself and white teammates," said Andrews. "So, when I'm there and I have a mother or child coming up to me telling me that because of me now I am their favorite player and it has nothing to with what I did on the field. I feel very proud of that."
Senior Morgan State women's basketball team player, Naomi Bolasingh, believed the event was "knowledgeable" and appreciative that the panelists had a lot to say about the black community and motivated them to not be discouraged by obstacles they have or may face.
"I think it gets lost. I think people are very negligent toward women and discriminatory still in this day of age where it should be moving forward," Bolasingh said. "But, it seems like we're taking steps back and so just having these powerful women as panelists being able to come to speak to us in this HBCU culture is very riveting and aspiring to everyone."
The "No Ceilings" special will air as early as February 2019 according to Kevin Merida, senior writer for ESPN's The Undefeated.