Morgan loses to South Carolina State University on homecoming
The Morgan State University Bears suffered a heartbreaking 21-18 loss on their Saturday's homecoming game against South Carolina State University.
With seconds remaining on the clock, Bears quarterback, DeAndre Harris threw his second interception on the last play of the game that could have possibly won it for the Bears.
"The plays were there we didn't execute," said Bears head coach Ernest Jones. "Execution is how you win college football games and we didn't execute."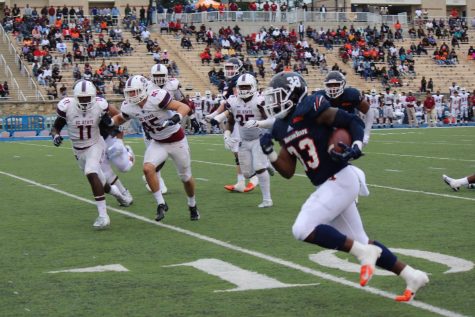 The Bears got on the board first with Alex Raya's 35-yard field goal. Five minutes later South Carolina State gets on the board with 12-yard touchdown run by Jarius Jenkins.
To cap the half off, Harris threw a 30-yard touchdown pass to Corey Holmes to regain their lead at 11-7 after they converted the two-point conversion.
In the second half, Harris threw his first interception of the game to South Carolina State's, Khaliq Anthony. Anthony's interception led to the Tyrece Nick 1-yard touchdown to give the Bulldogs a 14-11 lead.
Despite Morgan's loss, junior running back, William King rushed for 73-yards in their Bears loss. The Bears ran King late in the game where it was crunch time before the final interception play by Omari Cummings.
Along with King gaining rushing yards, Jordan Riggins gained the Bears lead back at 18-14 after his 13-yard touchdown.
In the final minutes, King ran all the way down the field and the team went in the air to try to win it.
But Omari Cummings picked it off to get his Bulldogs their first win of the season with a 21-18 victory.
"As a team we did great," said King. "As you see we missed out on some field goals but it's all good, we got Savannah State next week. It's a new day starting Monday."