The MSU Bears defeats the number one team in the MEAC
The MSU Bears clawed their way to the top and beat the North Carolina A&T Aggies late Saturday night.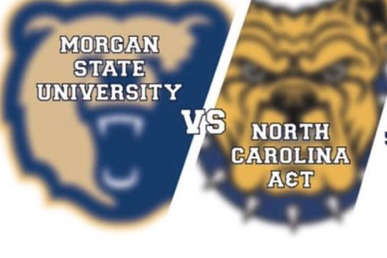 The Morgan State University Bears completed a shocking upset over the previously-undefeated Aggies of North Carolina A&T, 16-13, after kicking a field goal as time expired at BB&T Stadium in Greensboro Saturday night.
The victory was Morgan's first over the North Carolina A&T since 2013. As for the Aggies, it was their first loss since 2016, a winning streak that spanned 15 games.
The Aggies jumped to a quick lead after a Mack McCain interception and an ensuing touchdown pass from quarterback Lamar Raynard to tight end Leroy Hill opened put them up 6-0, but they would miss the extra point attempt. Morgan quickly answered with a touchdown run by
quarterback DeAndre Harris and would take a 7-6 lead, which they carried into halftime.
The second half saw the Bears extend their lead to 10-6, after a field goal by senior kicker Alex
Raya, but the Aggies blocked a Morgan punt, and a 19-yard touchdown run by Marquel Cartwright put them in front, 13-10, a lead they carried into the fourth quarter.
Morgan would respond, putting together a drive that ended with a 51-yard field goal by Raya that tied the game at 13-13. The next offensive series by the Aggies got down to the Bears' 25-yard line, but Morgan's defense—which forced two turnovers on the night and held an offense that scored 93 points in their first three games to under 20—held strong once again, and a missed 43-yard field goal gave Morgan the football at their own 25. 
With less than a minute left in the game, DeAndre Harris connected on a 45-yard pass to tight end Jack McCracken, setting Morgan up in Aggies territory. As the clock winded down to two seconds, the Bears called timeout to set up their senior kicker for a potential game-winner, which he would make from 36 yards out.
The win was the first of the season for the Bears (1-3) and new head coach, Ernest T. Jones, and Morgan's first win over a ranked opponent since 1996. 
They have a week off before their next game against South Carolina State on October 6 at home.