Lady Bears Softball Player Swings into Game Change Mode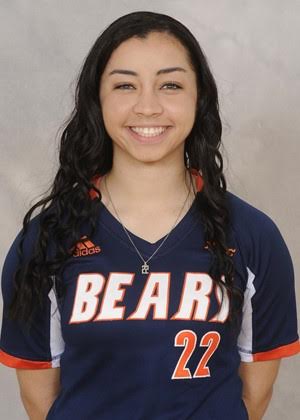 A team can have many different contributors but only a select few have the ability to change the scope of a game at any point.
The ascending play of Morgan State Lady Bears softball player, Damali Young, may be seen as the difference maker for the Lady Bears this season.
"She has matured a lot and she's now a leader on the team. She's really an important part of our team in a lot of aspects," said Lady Bears senior pitcher Amy Begg.
The junior outfielder was named to the All-MEAC preseason second team and received the conference's Co-Softball Player of the Week honor.
Young received the Player of the Week honor as she finished the first week of competition with a .500 average in six games.
In opening week she led the MEAC in hits, doubles (3) and currently leads the MEAC in triples (1) while drawing two walks and recording two stolen bases. She has totaled 15 bases and scored four times with a couple of three hit games against University of Tennessee Chattanooga and Fairleigh Dickinson in the Dot Richardson tournament in Clermont, Florida.
The Lady Bears finished the tournament with a 2-4 record, picking up victories against University of Toledo and Fairleigh Dickinson.
"We went down to Florida with the attitude of getting the kinks out from not playing for almost a year and also kind of figure out where our season is going in regards to how we're gonna win games," said Young. "We saw some of our weak spots and we saw a lot of our strong suits. Even though we didn't come out with the record we wanted we got some good wins under our belt.''
Young is a construction management major at Morgan State and a native of Westampton, New Jersey. She attended Rancocas Valley High School in Mt. Holly, New Jersey. Growing up, Young's parents got her involved in many different sports until she was able to gravitate towards one.
She gravitated towards softball around the age of eight and nine. Young tried out and made her middle school softball team and that quickly boosted her confidence.
That's when she knew softball was what she wanted to do for the next eight years.
While a freshman in high school, Young did not get much playing time for the Rancocas Regional Red Devils, but sophomore year is when she gained her shine.
In a game where her team was trailing by an unpleasing deficit, she was put into the lineup and she made the best of it. Young hit a grand slam and left her coach with a "that girl has potential" impression. Young considers that one of her favorite moments in her high school career.
When it was time to transition from high school to college prospect, Young was ready to commit to a school in New Jersey but after that plan fell through, Morgan State came calling.
While on a visit to Morgan, she was genuinely embraced by the Lady Bears softball team. She credits that as a big reason why she decided to commit to Morgan, reassuring her that she wouldn't be just another player on the roster but an actual face and name.
As a Freshman in 2016, Young made an instant contribution to the Lady Bears. She started in 41 games and made 146 plate appearances. She had 128 at bats, led the team with 42 hits, ranked second on the team with a .328 batting average, totalled 57 bases – holding a 400 on base pct, led the squad with 22 runs scored, had a 930 fielding pct. and led the team with 30 stolen bases on 33 attempts.
Those numbers earned her the teams Rookie of the Year award.
"Last year and the year before I thought because I was one of the younger kids on the team I wasn't sure if all the recognition was really deserved but now as a junior, there's a reason why I'm here, there's a reason why I play and I gotta keep that into perspective," said Young.
If accolades and recognition were not enough motivation, having her younger sister playing on the same squad certainly has been.
Young's sister, Jalian Young, is a freshman outfielder for the Lady Bears.
"Now that my sister is at school with me she motivates me a lot to do well on the field. I wanna [want to] do well for her so she sees she can be as good and better than I'll ever be," said Young.
As the 2018 season gets into full swing, Young mentally and physically prepares herself for a long season. After feeling "indestructible" during her career at Morgan, a knee injury cut her 2017 season short. Young now knows she has to play smarter to stay healthy.
She will need to stay healthy in order to break every stolen base record as that is one of her career goals. She is already eight stolen bases away from breaking Morgan's career record.
Being this close to achieving such milestone proves that her play on the field is trending up and it's also a testament to how much hard work and dedication she has put in the past couple years.
"It's been really cool to watch her confidence grow as a player and a person on and off the field," said Begg.