Throwback Thursday: A profile on Tiffany Mfume
On the 25th anniversary of her 1992-1993 reign as Miss Morgan State University, Tiffany Mfume, alumna and assistant vice-president of student success and retention recapped her time as a student on campus.
Mfume's role as Miss Morgan was to serve as a representative for the students at the University. In this role, Mfume carried the title and the image of the University with much respect in academic and personal appearances. Through her reign, she was actively involved in community service projects dedicated to assisting the elderly.
"I went to the senior citizen home on a monthly basis, where I read books to them, painted their nails and helped them with whatever they needed help with," Mfume said.
Her time serving the community as Miss Morgan created a memorable part of her experience at the University.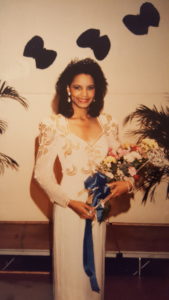 However, Mfume's student experience was not solely based off her influential title on the campus but her time as biology major in the honors program played an important part too. The biology department was based in the Spencer Hall, Calloway Hall and Key Hall, which were the new facilities at the time. She enjoyed the opportunities the new facility and the department offered, along with the faculties help.
In a strong pursuit of her academics, student life and campus involvement was always at an all-time high.
"School spirit was so high as students wore their apparel of whatever club, organization or sorority they were in. People were standing out on campus all the time and you could barely walk from the different buildings especially during events," said Mfume.
Now as an alumna, Mfume had a new experience of school spirit and campus festivities during homecoming and the 150th celebration of the University.
"The 150th celebration means a lot to me because my mom, Lois McMillan has been on faculty for 50 years, that's a third of Morgan's existence and my sisters are graduates from Morgan. This means a lot as far as who I am and the woman I have become … my leadership skills, how I relate to other people and professionalism," she said.
Mfume also participated in the Morgan Gala, an alumni event for guests to dress up in their best attire and donate money to the Morgan State University foundation.
"As an alumna the Gala is the event I look forward to the most… it's like what gown am I going wear, the food is always good and the band is amazing," she said.
Throwback Thursday is a new miniseries from The MSU Spokesman.