The radio station located on the campus of Morgan State University in Baltimore, Maryland hosted a launch party Thursday evening to celebrate its new programming.
The station, which started in 1977, unveiled a new lineup of programs, which officially started on Oct 2.. The new shows include "Mornings with Mykel" from 6-10 a.m. on weekdays and "For the Culture," hosted by Farajii Muhammed from 5-7 p.m. Monday through Friday.
Several pillars of the WEAA community were present at the event, including the chairman of the Morgan State Board of Regents, Kweisi Mfume. Mfume, a founder of WEAA, highlighted the importance of providing quality news and serving as a training ground for students.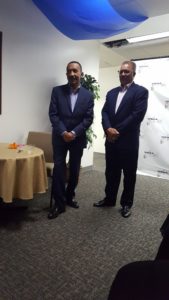 "As chairman of the Board of Regents, it's very important to all of us to make sure that our station is informative, competitive, and that it is a teaching tool for young people to be able to come over and to do this," said Mfume.
The general manager of the station, Mireille Grangenois, said the station plans to be more innovative.
"We're going to invent things and then the industry's going to follow us. Watch us; watch us, watch us. We're on the move."
Grangenois also talked about what the new changes will mean for students who are interning at the station.
"When WEAA was founded, all but two roles were filled by students. Now we're reimagining the station to appeal to a broader audience while also introducing nearly a dozen talented students to meaningful roles that will advance their education and prepare them for successful media careers," said Grangenois.
The changes for the NPR-affiliated station, which celebrates its 40th anniversary this year, come as Morgan State University begins to finish out its celebration of the university's sesquicentennial.
Baldwin Williams contributed to this story. The MSU Spokesman will have more on the changes in WEAA.