The 2017 Lady Bears volleyball squad is led by two seniors who demonstrate hard work on the court and off the court. Michaela Collins and Keana Browne have assumed the role of leadership of the Lady Bears. A Lady Bears team who have six juniors with some potential. The team recently concluded their 2017 non-conference schedule but only picked up one victory against University of Arkansas – Pine Bluff.
The Lady Bears head into the conference portion of their schedule 1-12, but there are still games to be played. Collins and Browne's leadership is a valuable asset to this team in order to stay competitive in every match in their final season.
Prior to the season, emotions were high for Collins and Browne.
"We were just ready to get out there man." said Browne. "We were very anxious for the season to start."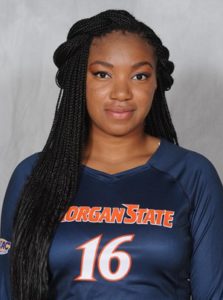 Browne, a native of Virginia Beach, Va was a lettered volleyball, basketball and track & field athlete at Landstown High School. Browne came into Morgan in 2014 where she saw action in 10 matches, making two starts and playing in a total of 14 sets, with five kills, an assist, one dig and a block. She recorded her first collegiate block and added a kill at Coppin State University.
Last season, in 2016 Browne won the team's MVP award. She started in all 28 matches and played in 93 total sets. She totaled 225 kills, 33 digs and 59 blocks.
"I want to go out and compete and show the younger athletes that it's possible to be a college athlete. That's what keeps me motivated," said Browne.
Browne's counterpart, Collins, a native of Sacramento, Calif. had her best season in 2016. She played in 41 sets and had a couple career highs.
"I had a good season but I want to continue to get better and be great," said Collins. The 6'1 outside hitter not only excels on the court but she excels in the classroom. Collins, a sociology major, has been a Morgan State All-Academic honoree and has been named to the MEAC All-Academic team in back to back years. "Student-athletes should take academics seriously because that's what you're in college for," said Collins.
When Collins isn't on the volleyball court, she is dedicating her time as a member of the Student Athlete Advisory Committee (S.A.A.C.) and as a member of Phi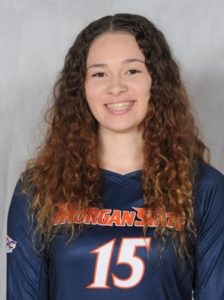 Eta Sigma Honor Society and Alpha Lambda Delta Honor Society.
Collins and Browne have enjoyed the bonding and chemistry they have with the rest of Lady Bears squad. They bond over many activities but food is something they can all agree on.
"We eat a lot," said Browne. "That's how we bond. We go out to eat and we cook at each other's dorms. We just like to eat." The team also enjoys scavenger hunts in the team hotels while they're on the road.
Collins and Browne have left their mark on the Morgan State volleyball program and they have become examples of how student-athletes should be.
"Whenever you have seniors you expect them to just lead, lead by example on and off the court," said Lady Bears head Coach Ramona Riley-Bozier.