Morgan State University celebrated the past as they looked towards the future at the opening ceremony of the new Martin D. Jenkins Hall.
Morgan State opens its second building on the west campus near Northwood shopping center, where many years ago, their students were not welcome.
"We must never forget that we are standing on the shoulders of those that came before us. We must never ever forget what it really means to the legacy of our great university to be in this space," said David Wilson, president of Morgan State. "We can't forget that because on this very spot, this is where the protest movement for civil rights got its start in the 1940s and 50s."
"Right here in this shopping center is where Morgan students could not even go to the theater, could not sit down and watch movies, they couldn't shop at the stores in this complex so I want to make sure that our students, in particular, don't forget the history," said Wilson.
Sen. Nathaniel J. McFadden recalled his time as a student at Morgan and the treatment he endured in Northwood.
"When I came over here and got off the bus in 1964, I wasn't welcomed in this community," said McFadden. "We just had to keep walking and when they allowed you to buy something, they followed you. It wasn't a pleasant time."
With the history and legacy of MSU in the minds and hearts of all Bears, the new buildings on the west campus are symbols of moving forward.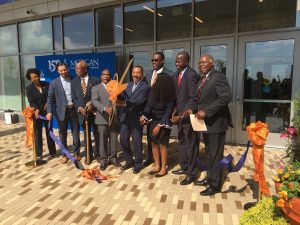 "A facility like this one invites us not only to revisit our better digital practices but also to contemplate redesigning our courses and developing adaptive teaching models and strategies," said Dr. M'bare N'gom, dean of James H. Gilliam, Jr., College of Liberal Arts. "In summary, this is a space that fosters student success through bold, innovative and student centered approaches. We need to teach for tomorrow, not for yesterday."
Other staff members in the new building are also excited for what the future holds within the walls.
"I am ecstatic," said Dr. Jocelyn Turner, chairperson for the psychology department. "I think this building provides us with a myriad of opportunities to engage in active learning with our students to bring out the best in them, utilizing state of the art technology."
"This is really a foundation for excellence and we have students who are already excellent and it's a space in which we can grow scholarship for the future generations," said Ricardo Howell, assistant to the dean.
Morgan State pushes on, proving to be a quality institution.
"The fight for Morgan State University is a one that we glory in," said McFadden.