For the fifth time this season, Morgan State University Lady Bears' junior pitcher Amy Begg was named Pitcher of The Week in the MEAC in earlier this month.
Begg was recognized for pitching a total of 26.1 innings in five games, while giving up zero runs and striking out 24. She had an ERA of 0.00 against Mount St. Mary's, UMBC and Norfolk State and held a 15-5 record after the Norfolk Series at the time.
The 6'2" pitcher made her first appearance on a collegiate mound in 2015 and made 28 appearances. She pitched in 106 innings and finished the season with a 6-14 record, 489 ERA, recorded 90 strikeouts, allowed 96 runs and struck out 24 batters as a freshman.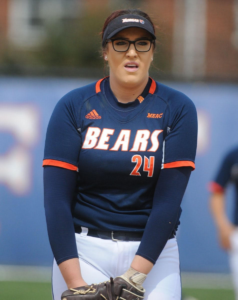 She has greatly improved over the past three years, pointing out her ability to keep her teammates locked in on the game as her greatest strength.
Begg's outstanding pitching this season helped the Lady Bears stay atop the MEAC standings for much of the season, a position she envisioned the team would be in prior to its start.
"I was confident that the team would do well because everything was coming together well the more we practiced," said Begg.
As the MEAC Softball Tournament begins, Begg enters the competition as conference pitcher of the year and helping lead the Lady Bears to the best overall record in the conference at 23-19. However, because the team went 12-6 in conference play, they hold a number three seed in the Northern Division.
Nicknamed "Kiwi", Begg is an international student from Christchurch, New Zealand. She is a Sociology major with a career goal of one day working in a prison educating juveniles.
She began her journey playing softball at age nine and started pitching at 13. Lady Bears head coach Larry Hineline sought after Begg when she got selected to play on the U19 New Zealand team at a World Series. It only took two weeks after Hineline spoke to Begg and she was committed to Morgan State University.
While Begg was gearing up to start the next chapter in her life and continue her softball career, there was still work that needed to be done.
"It was really difficult," said Hineline about the process of recruiting Begg. "It was difficult because she hadn't taken the SAT's yet and she hadn't finished high school yet. Bringing in an international student is always difficult, it's a lot of paperwork and a lot of grade translations so much administrative stuff. But it's worth it now. It paid off."
Begg is grateful to her mother for dedicating her time making sure the proper paperwork was complete for her to come to the states. But that doesn't come as a surprise as her parents Karen and Jason both has been heavily invested in her softball career throughout the years.
"They motivated me to do the best I could and drove me to all the practices and all the games and were my biggest supporters," said Begg. She also has an older sister that she is very close with as well.
The Lady Bears' ace continues to get that same sisterly love from her teammates who she has a strong bond with off the field.
"We always do everything together," said Begg. "We walk to class together, eat together, we are always together no matter what we are doing. We even go to the movies and go out to eat together."
Begg's outgoing personality has made an impact on every one of her teammates individual lives.
"She's a great friend, teammate and leader on and off the field," said second baseman Danielle Pitpit. "We keep each other in the game whether she's not getting calls or I'm not playing to my expectations. She holds it down on the mound and lets her defense work. If she's not pitching and even when she is pitching, she's always one of the biggest hype men on the team to keep us going."
As the Lady Bears prepare for the MEAC tournament, beginning tomorrow, number 24 hopes the same swagger and confidence she and her teammates has played with all season will help bring a MEAC softball title to Morgan State.