For decades Enolia Pettigen McMillan, former president of the NAACP, fought for equality for black students and teachers in Maryland's public school systems. As part of its sesquicentennial celebration, Morgan State University erected an exhibit in her honor.
McMillan, who died in 2006, spent 42 years as a teacher and administrator, but it was as a graduate student at Columbia University where she started questioning the inequities in Maryland's public education system. She lost promotion opportunities because of her outspokenness, but she still managed to become the state of Maryland's first black high school principal in 1928 and the first black administrator at Clifton Park Junior High in 1956, two years after the landmark Brown v. Board of Education ruling.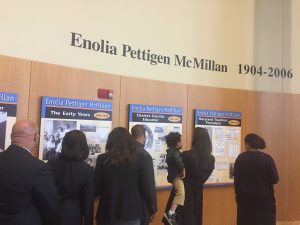 The exhibit chronicles these events and others, like McMillan's election as the first female president of the Baltimore chapter (1969) and national chapter (1984) of the NAACP, and her appointment to the Board of Regents at Morgan from 1975-84.
Several of the McMillan family members were present, including granddaughter Tiffany McMillan Mfume.
"(This exhibit) is such a tremendous tribute to my grandmother," Tiffany Mfume said. "She was Chair of the Board of Regents when (Earl S. Richardson) became president. She believed in education and she loved young people, so to have it here at Morgan, I feel honored and overwhelmed, and just very thankful."
Kweisi Mfume, the current Chair of the Board of Regents also attended the event. Besides marrying Tiffany Mfume, he worked alongside McMillan as an activist in the 1980s, including a 1985 demonstration at the South African Embassy against apartheid and the imprisonment of Nelson Mandela.
"Even though we were separated by so many years, we had a natural connection on issues, particularly those of education and equality," Kweisi Mfume explained. "Her intelligence, her passion for justice and her fearlessness were exceeded only by her dignity and grace."
The ceremony ended with Larry S. Gibson, a professor at the University of Maryland, who thanked all those involved with putting the display together. "It has been a delight and privilege to explore and present the history and legacy of this truly extraordinary woman, Enolia McMillan," he said.
The exhibit can be seen in the Earl S. Richardson library.