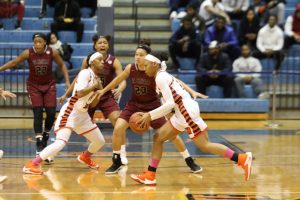 It took a team effort for the Morgan State University Lady Bears (3-19, 1-8 MEAC) to pick up their first MEAC victory of the season. Morgan defeated the North Carolina Central University Lady Eagles (3-16, 2-6 MEAC) 44-42 Saturday at Hill Field House.
Senior guard Ivy Harrington came off the bench scoring a team high eight points. The team's leading scorer, junior guard Braennan Farrar also had eight points. Junior forward Tykyrah Williams and sophomore guard Chelsea Mitchell each scored seven points. Junior guard Zuri White grabbed a game-high seven rebounds and Williams finished with six.
Morgan held a low scoring 27-24 first half lead behind Williams, who scored all of her points in the first half, and Harrington, who scored all but two of her total in that same period. Deja McCain of the Lady Eagles led the way with nine points. Both teams struggled from the field, shooting a little over 30 percent.
Late in the first period, Mitchell got knocked down on a loose ball late in the first period and did not return to the court during the entire second period. She would check back in the game late in the third and make an immediate impact hitting a couple key shots.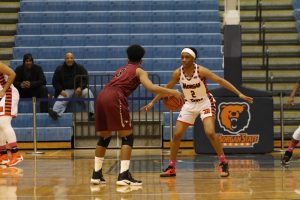 "I had to stay focused, I couldn't let the injury get to me," said Mitchell. "I know I had sat out but it was good to watch the floor and see what was going on around me."
NCCU kept pace with the Lady Bears, but Morgan held the lead for much of the game. The Lady Eagles' only lead was 10-9 with 1:23 left in the first period.
The Lady Eagles, now on a six-game losing streak, were led by McCain, who shot 4-7 and finished with a game-high 13 points. Morgan Jones had 10 points, while Kierona Morton added seven points and a team-high seven rebounds.
Interim head coach Ed Davis expressed throughout the season that defense is his team's strength and the Lady Bears were able to force turnovers and capitalize, scoring 16 points off the Lady Eagles' mistakes.
"Coach Davis gets on us about defense; we make them turn the ball over, we don't turn it over," said Farrar.
Morgan will conclude their three-game home stand with a MEAC match-up against Delaware State University on Saturday, Feb. 11 at 2 p.m. at Hill Field House.