In Morgan State University's men's baskegball home opener, the Bears defense could not find an answer for fellow Baltimore County rival Towson University as the Tigers defeated Morgan State 78-72 at Hill Field House.
Tiwian Kendley, a junior college transfer for Morgan who scored a game-high 26 points knocked down the first seven points of the game for the Bears, but the Tigers held a one-point lead going into the first media time-out
Morgan lead 21-15 midway through the half, rallying behind a few key blocks from freshman David Syfax and solid shooting performance from senior Kyle Thomas. By halftime, the Bears held a 30-25 lead behind Kendley's 12 points and Thomas' nine.
"Our performance came from seeing the driving lanes and taking good shots and basically just playing basketball," said Kendley.
Coming out of the break, Towson went on a 14-4 run to take a 39-34 lead, kicking off a series of lead changes before Towson regained a 46-42 lead.
Syfax found himself becoming more of a threat on the offensive end getting to the rim for multiple and-ones and connecting on some outside shots to cut t points by the Bears deficit to two.
"I played alright," said Syfax. "I came out slow in the first half but I picked it up but you know, being a freshman, I'm just trying to bring as much as I can to the team and contribute."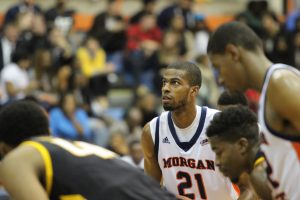 With three minutes in the game in the game, Towson went on a 13-5 run to take their first double digit lead at 72-62. Mike Morsell was big for the Tigers, leading his team with 22 points and three rebounds.
Although Morgan came within five points in the final two minutes of the game, they couldn't do enough to get the Bears past the hump and Towson forward Arnauld William Adala Moto knocked down a midrange jumper to put Towson up 75-68 with 29 seconds left on the clock.
"We were focusing on two things coming into tonight's game," said head coach Todd Bozeman. "One was not to turn the ball over, and the other was guarding the two guys. We had the lead in the first half and had a lot of turnovers and we gave up the ball on our rebounds."
The Bears (0-2, 0-0 MEAC) return to the court at home on Thursday for a matchup against Wilmington University at 7:30 p.m.
"We're young and we have some junior college guys, but everything is mental for us but we just have to be mentally focused going into Thursdays game," said Bozeman regarding preparing for Thursday's game.