The Morgan State University football team has a chance to knock off the top seed in the MEAC, the North Carolina Central Eagles and give them their first conference loss of the season. With the Bears winning two of their last three games, head coach Fred Farrier and the Morgan State Football team look to defend home turf for Saturday's Homecoming game.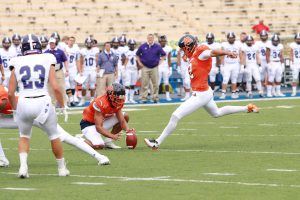 The Bears are coming off a 21-12 loss to Hampton University last weekend, in which graduate quarterback Chris Andrews completed 14 of 22 throwing for 172 yards. This week, the offensive line for Morgan State will be key in this matchup to provide holes for the running back corps, which lost senior Orlando Johnson to a season-ending injury against the Pirates.
North Carolina Central redshirt junior Reggie Hunter, who recorded four sacks and eight tackles last week against Savannah State, could cause issues for the Bears' offense. Look for senior receiver Ricky Fisk to step up big time in his final homecoming game along with senior receiver Ladarious Spearman who gained 51 yards on three catches last week against Hampton.
"It's my last homecoming and for two as a player I feel like this is a game we must win for the alumni and the student body and faculty of Morgan," said Fisk. "we have been preparing the same and treating this game just like any other home game. We know it's a lot of activity going on but we can't let it distract us, we have to focus on winning the game."
While the Bears' defense only has five interceptions and two forced fumbles this season, they look to capitalize off the recent struggles of NCCU redshirt senior quarterback Malcolm Bell, who threw for five interceptions last week against Savannah State.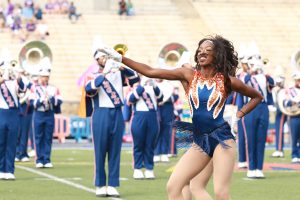 Everyone is extremely focused," said junior defensive lineman Jai Franklin, the anchor of the defensive line with 5.5 tackles for loss – good for second on the team – and a forced fumble. "It's not a lot of joking around or playing games on the field, we are committed on trying to get this win Saturday."
Last season, the Bears lost their homecoming game to Hampton. The previous year, NCCU was the opponent and a series of late game heroics saved the Bears on the way to a MEAC championship and playoff appearance.
Under a new coach and system, the hope for this weekend is a result more similar to the latter than the former.
This article was written with assistance from Benjamin McKnight III, Editor-In-Chief.