The orange sunset cast down on hundreds of Morgan State students Wednesday evening as they gathered at the atrium outside of the Earl G. Graves School of Business & Management. Tears flowed as cries and wails rang out at the candlelight vigil for slain student Marcus Edwards.
Edwards, 21, was found the night of Sept.19, stabbed in the chest at the intersection of Loch Raven Boulevard and Woodbourne Avenue. Edwards was rushed to a nearby hospital, were he succumbed to his wounds.
Edwards aspired to be a police officer, pursuing studies in social work to further understand and relate to the communities he planned to service. A beloved member of Morgan's S.M.O.O.T.H. organization (Strong Men Overcoming Obstacles Through Hard Work), friends, family and a chunk of the student body came out to commemorate his life.
Among those in attendance at the vigil were members of his hometown church, members of the male organization S.M.O.O.T.H. (whom Edwards was a member of), and members of Alpha Nu Omega Fraternity Inc., including Walter Kennedy, a Morgan State alumni and Edwards' god-brother.
Kennedy and Edwards grew up together in the church. Kennedy talked about how helping Edwards get acclimated to life at Morgan after he'd transferred over from the University of Kentucky.
"Marcus had his own personality and he made friends right of the bat," Kennedy said of his god-brother. "He was an all-around good guy who always had a smile on his face, always joked with people and was serious about his education. He would always brighten your day."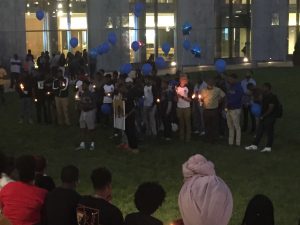 With the candlelight coordinated by S.M.O.O.T.H., members passed out and lit candles to those in attendance as a large crowd quietly formed outside the school of business. A sea of blue, white and orange balloons swayed from the strings of family and friends as guests took turns giving testimonies on Edwards' character.
Since Edwards' death, the trending topic #SmileForMarcus had spread across Twitter, recognizing the trademark smile that Edwards was known for. In acknowledgement, members of S.M.O.O.T.H. held up and signed a large blowup of Edwards for the crowd to see and the family to cherish.
Campus activist and senior speech major Chinedu Nwokeafor addressed the crowd with the Negro Spiritual "Soon-A Will Be Done." Nwokeafor addressed the crowd, calling for students to "exude love" to prevent future senseless deaths of their peers.
"Let us stop waiting to lose a body to come together as one people," said Nwokeafor.
Rev. Patrick A. Barrett II served as Edwards' youth pastor at Judah Temple AME Zion Church, and he took time to reflect on Edwards' life, as well as thank the S.M.O.O.T.H. organization for changing his outlook. Similar to Nwokeafor, Barrett II had a message for students to prevent future tragedies.
"The best way to honor Marcus is not just holding candles, but to be the light," said Barrett II.
The brothers of Alpha Nu Omega Christian fraternity at Morgan State asked the crowd to sing a spiritual song. "Side by side, hand in hand, shoulder to shoulder we will stand" the crowd chanted in unison as tears flew across the atrium.
As the candlelight came to a close, the crowd chanted "Smile For Marcus" as the balloons were released into the sky, creating a cascade of blue, white and orange over the family and friends of Marcus Edwards.
As for the investigation surrounding his murder, the Baltimore Police Department is urging those with information to come forward.
"We're looking to reach out to the people who tried to help [Marcus] and talk to them," said TJ Smith, the Chief of Media Relations for the Baltimore Police Department. "This young man didn't die as a result of being a Morgan student. This could have, theoretically, been anyone, and we're trying to figure out why this happened."