The Murphy Fine Arts Center on Morgan State University hosted a multimedia concert adaptation of the play Mother's Lament on Saturday evening.
The event came to fruition from minds of composer Dr. James Lee III, creator of the visual interpretation of Mother's Lament: Mother's Prayer E.L. Briscoe, and producer Vincent Dion Stringer.
"It's amazing to see a vision go from the page to the stage," said Stringer
The event was hosted by Dorothy Johnson Speight, Founder & National Executive Director of Mother's In Charge, Inc. Mothers In Charge is a national anti-violence organization geared towards mothers who have lost a child to violence.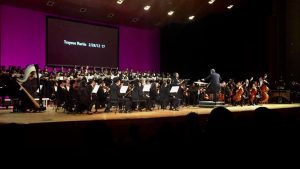 "We stand together not just to grief in pain, but to make a change in this country," said Speight. "We are losing too many loved ones to violence. We don't want mothers to continue to coming to us because they lost a child."
Speight asked everyone in the room to stand if they lost a loved one to violence and on a synchronized count say their name. "We don't ever want to forget their names," she said.
"Enough violence, enough killings; let's change our communities," said campus president David Wilson after the intermission. "We have an obligation to make things better so there would be no more tears, no more aching hearts and no more sleepless nights."
The highlight of the night was the namesake piece, "Mother's Lament", performed by the Mid-Atlantic Symphony, Morgan State University's Choir and vocalist Marquita Lister.
The projector behind the choir and the symphony displayed names of victims, when they died, and their ages.
Tavon Wheeler, 32 from Baltimore, MD, saw his brother's name, Nathaniel Wheeler Jr., 32, who was shot to death on July 2, 2015.
"It was touchy just sitting there and seeing these parents losing their kids and all it brought back a lot of mementoes and struck some chords for me" said Wheeler. "When the names passed, I didn't have much in my mind. It was a meditation moment. When I saw my brother/s name I was speechless…It was a moment for me."
The performance was received with a standing ovation.
"People's hearts were moved; the most important thing was reaching out to the families, remembering the loved ones," Stringer said after the production. "I want them to remember that Morgan State University cares, that this group of artists had their heart and their soul in the work that we do and we will carry that with us. I want them to know that there are people who want to work together for change right here on our campus."