After an eventful offseason which consisted of a handful of major changes for the Morgan State University Bears, the beginning of the 2016 was highly anticipated for the new look squad.
Although low Academic Progress Report scores resulted in a postseason ban for the Bears this season, a new coach, new quarterback and new uniforms brought a new level of excitement for the football team. Nonetheless, that was not enough as the Bears dropped their first game of the season to the College of the Holy Cross, 51-24.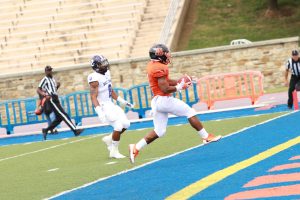 The last matchup between the two schools was in 2014 when the Bears lost 29-26 at Holy Cross, Farrier's alma mater.
Morgan succeeded in moving the ball early on, gaining a 10-7 lead to end the first quarter and holding a 17-14 lead at one point of the second quarter. An 87-yard drive by the Bears, including two 25-yard passes from graduate quarterback Chris Andrews to senior receiver Ladarious Spearman, ended with a one-yard touchdown run by senior Orlando Johnson to give them the lead.
Just halfway through the end of the second quarter, things began to fall apart for the Bears.
A drive that was initiated from their own five-yard line ended with an interception on third down. The Bears defense then held and forced the Crusaders to punt, but on the ensuing drive, a high snap over Andrews' head resulted in a safety, cutting the Bears' lead to one point.
"We really didn't get much going in the first half after that," said Farrier. "We gotta find a way to move the ball and keep the chains going."
The Bears struggled to do such following the safety and Holy Cross used those two points as part of a 30-point swing that stretched into the 4th quarter.
"We started doing little mental mistakes, I started making bad reads," said Andrews on the lack of offensive production through the Crusaders' scoring run. "We've got a lot of things that we can fix."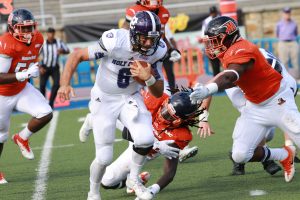 While the game was essentially over by the final quarter of play, the Bears managed to temporarily halt the Crusaders' scoring onslaught after an interception by redshirt junior defensive back Eric Alvis Jr. Andrews again connected with Spearman on a 25-yard pass, this one for seven points.
"Even though we were down, we're still gonna fight til the end," said junior linebacker Damare' Whitaker.
The next drive, however, Holy Cross junior running back Diquan Walker ran the ball in from 61 yards out on the first play to put the final score on the board for the Crusaders.
The loss drops the Bears to 0-1 as they prepare to face Marshall University in Huntington, WV next week.
"There were definitely times when we were tired and not playing with as much focus as we need," said Farrier. "We gotta be able to lock in and do all that we need to be able to execute for 60 minutes."
[wzslider]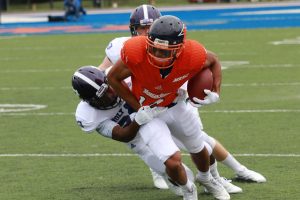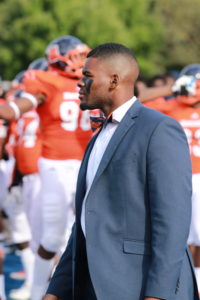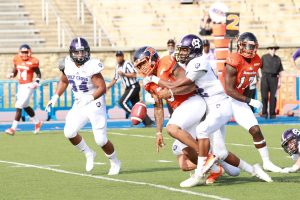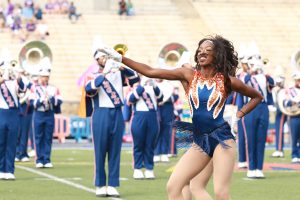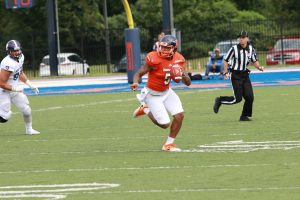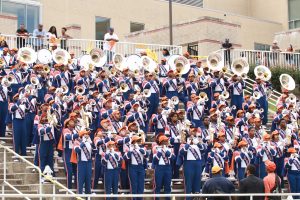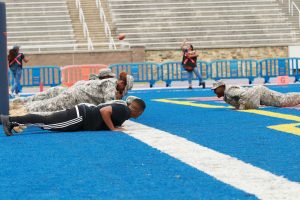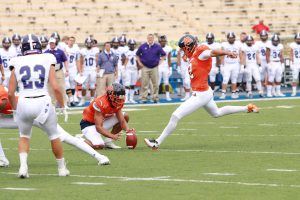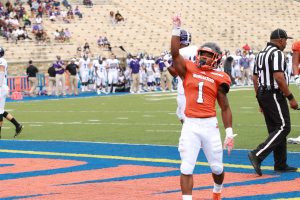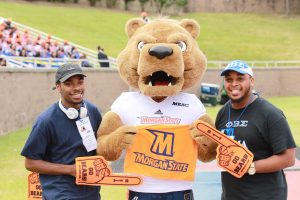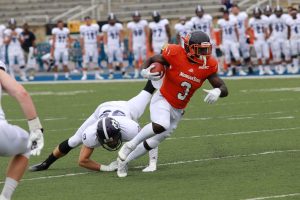 [wzslider]