Morgan State University students and faculty gathered together to express the state of unity and peace on campus and in the Baltimore community.
Morgan's Student Government Association organized the event, called "MSUnified."
Morgan's band warmed up the crowd and drew people to the quad for the peace rally.
To bring unity to the crowd, the program began in a prayer followed by the audience singing along with a choir member to "Lift Every Voice and Sing."
Commonly known radio personality and member of the Islamic community, Farajii Muhammad attended the event to speak on the power of this generation and the unity of Morgan State.
"Real unity doesn't start until we make a decision that we're going to remove the labels that often divide us and come together; not as just one or two but we come together in mass and stay in mass and stand as a united people," said Muhammad. "We have a great legacy as a people but we have a greater future in destiny as a generation."
Junior, Joy Barnes, 20, moved the crowd with her poetry based on the interactions in the community of Baltimore kids she taught.
The event also had some words from a member of the LGBT community.
"I am very happy with how Morgan state is moving in a big way with gender neutral bathrooms in every building and classrooms that teach inclusion in gay history," said engineering major Shaleque Hinton. "I am very happy that Dr. Wilson and the advisory team of the LGBT community to actually move forward, it's time that we move forward, for us to be comfortable for us to be out and proud."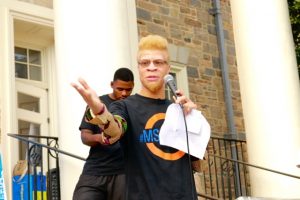 Senior speech major, Chinedu Nwokeafor, not only spoke of the conclusion of Morgan but also pleaded with the crowd to get involved in the conclusion as well.
"We want the world to know that Morgan State University is the hound of conclusion in Baltimore City. We're open for all people; Islamic-phobia does not exist here; homophobia does not exist here. This is a place of togetherness," said Nwokeafor. "You as a student body, you must care for your school because your school isn't just your educational ground, it is your door to the rest of your life."
Nwokeafor concluded his speech with getting the crowd to yell in unison "Morgan matters."
SGA President, Joy Joelene Griffin, and Vice President, Nadif Bracey briefly spoke on the diversity of Morgan.
"Though we are an historically black university, we are diverse in many ways," said Griffin.
"Diversity is not the color of your skin but the way you were raised, the way you were born, everybody has their own story that makes them unique. The underlying glue to this all is unity," said Bracey.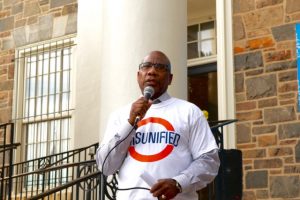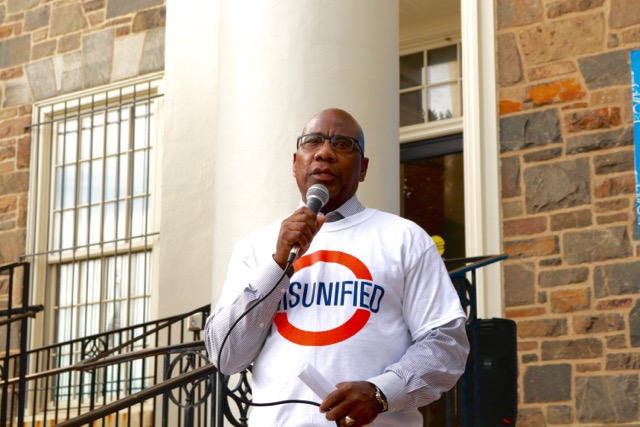 President David Wilson gave the final remarks of MSUinified.
"Morgan State University and the lives that will be educated through its doors matter," said Wilson.
Wilson offered an anecdote of his first trip to South Africa and his conversation with Walter Sisulu.
Sisulu spent 27 years imprisoned in South African fighting for what he thought was right and even after being released showed no anger or bitterness towards the society that locked him away.
"When you commit yourself to doing the right thing, you don't let others define you," said Wilson. "You understand that we here at Morgan, we here in this country have a huge umbrella and that umbrella is wide enough for everyone. Morgan has never excluded anyone based on race and other artificial characteristics."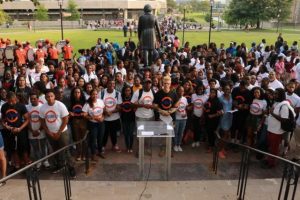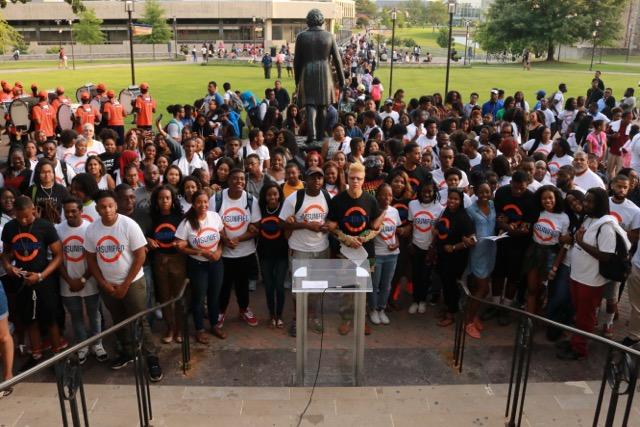 At the end of event, students locked arms to symbolize unity and were lead through a mantra directed by Nwokeafor.
Students ended the event with the "I love my HBCU" and the "We are the Bears" chants.