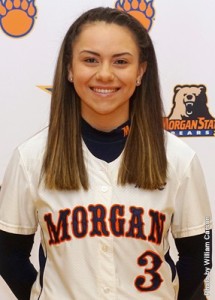 For a great majority of college athletes, their senior season is the last hurrah in the competitive sports world. On May 21, dozens of athletes at Morgan State University will make the bittersweet transition on from student athlete to alumni.
Senior softball catcher Kimberly Fontaine set the tone for her collegiate career during her freshman season in 2013, starting in 37 of 41 games and finishing second on the team with a .288 batting average to go along with 23 hits, 15 RBIs and 12 walks. Fontaine hit it her first collegiate home run March 2013 against Brown University at the Towson Classic. She finished her senior season with a batting average of .211, four home runs and 11 RBI's.
Originally from Granada Hills, CA, the business administration major was grateful for her time as a student-athlete at Morgan State.
"[My] time here has been a good experience," she said. "I got to travel and compete with a great group of girls and we motivated each other on and off the field."
Fontaine and ten of her teammates made 2016 MEAC Softball All-Academic team, awarded sophomore, junior and senior student-athletes with a 3.0 or better cumulative grade point average.
"They're all great kids, good students and, they represented Morgan well, but Fontaine stood out to me the most," said softball head coach Larry Hineline.
Joel Roberson, who has been running track since the 10th grade at Laurel High School in Laurel, MD, owes his growth as a man and student to the Morgan State track team.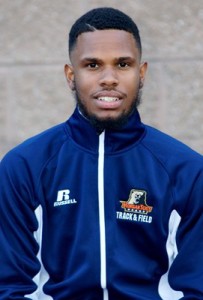 "It developed me to be the man that I am today," Roberson said. "It kept me consistently trying to reach my full potential as an individual. It kept me competitive academically and trying to be the top student in my class."
In high school, Roberson started running track in order to stay in shape for football. He noticed how good he could be and continued with it.
"After my first year of track I had the potential to break the school record in the 400m and 4x400m," he said. Roberson recently ran 45.66 in the 400m, which placed 11th in the region and top 25 in the world.
"I learned a lot," said Roberson on his time at Morgan State. "Running track at Morgan helped me as an athlete and a student. Morgan means a lot to me. To be nationally known at an HBCU; I feel as though I made my mark here and there are many more goals I will accomplish in the near future." Graduating with an accounting degree on Saturday, Roberson has big plans once he leaves Morgan State, which includes possibly joining the small number of athletes who continue past the collegiate level.
"I have an opportunity to go professional in track and field, but my first priority is to get my degree, pass my CPA (Certified Public Accountant) exam and, start working in the field of my desire," he said. "I want to gain experience in all aspects of accounting to acquire my skills and move up to an accountant manager one day."