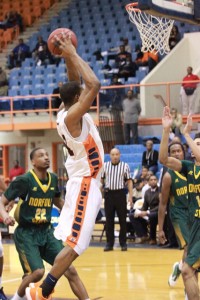 Morgan State's men's basketball team hosted Norfolk State on Wednesday evening, handily beating them 89-72 Wednesday night in the second and last meeting between the two schools this season. Senior Rasean Simpson had 18 points and nine rebounds and junior Andre Horne Jr. scored 18, four of which were 3-pointers, to lead the Bears.
Morgan shot 51 percent in the first half to take a 42-28 lead behind Horne's 13 points and Kyle Thomas' 10. "They beat us at their place, so I was really coming out here focused and worried about getting the win," said Horne. "My energy got me going and we came out with a win. That's what it was all about, getting the win." Horne left the game with 4:01 left in the second half after hitting his head while trying to take a charge.
The Bears outscored the Spartans 9-2 to open the second half and increase their lead 51-30. "They did a good job. Cedric Blossom did a good job sharing the basketball, he had a career high 7 assist and I thought that was important because they were doubling him so he shared the basketball," said head coach Todd Bozeman. "Donte Pretlow had 5 assist so they shared the basketball and hit the open guy, that contributed to us winning this time around."
Thomas finished with 16 points and Pretlow added 13 for Morgan (7-20, 5-9 Mid-Eastern Athletic Conference), who entered the game ranked last in the league. Norfolk State (14-15,10-4), led by D'Shon Taylor's 20 points and 10 rebounds, remains in third place of the MEAC.
The Bears' next game will be at Coppin State University on Saturday at 4 p.m.