The Morgan State Lady Bears moved to first place in the MEAC following a 66-55 win over the North Carolina Central University Eagles.
Although the Lady Bears have a better record than the Lady Eagles' four-win mark, the game was competitive up to the final whistle. They opened the game with a 7-0 run in the first quarter, and in the second half they came out with similar intensity despite trailing. But Morgan made several in-game adjustments, most notably a full-court press defense, and clamped down on the Eagles' efforts.
"It's a team game," explained Danielle Robinson, a junior guard for the Bears. "She [sophomore guard Braennan Farrar] was struggling; everybody was struggling. But the bench comes in, helps us out, so we just played a team game.
The bench in question made admirable contributions, particularly in the scoring department with 15 points. Robinson, who also had difficulty with her shooting at times, came through with some clutch baskets and finished with 15 points as well.
However, it was Farrar who made the most significant contributions of the game. With a gym full of her family and friends watching and cheering her on, the Saint Louis native finished the contest with seven assists, four steals, five rebounds and 19 points, including a buzzer-beater just before halftime.
"I fed off my teammates. That's what it really was," Farrar explained. "At first we were all playing a little bad; we couldn't hit shots. But we picked it up on the defensive end and converted that to offense."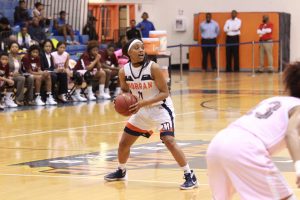 The defense she brought up was essential in the game, especially when NCCU made a fierce comeback late in the contest. Various players came up with steals and blocked shots, and the Lady Bears converted the turnovers into 21 points compared to just 10 by the Eagles.
The Bears improved their overall record to 12-13, and are now alone atop the MEAC standings with a conference record of 10-3. But head coach Donald Beaseley mentioned that there's still work to be done. "We're still learning; we should've outpaced their [NCCU's] team, but we're still learning," the eleventh-year coach said. "We've got to be mentally focused; it's more mental than physical. We showed we can play and make baskets, but do the right thing at the right time."
The Lady Bears look to even their overall record in their next game on Feb. 22 against the North Carolina A&T State University Aggies. The game starts at 5:30 p.m. at Hill Field House.