After a long and trying fall semester, most students had already packed their suitcases and gone home for winter break. However, some would be leaving for a different reason.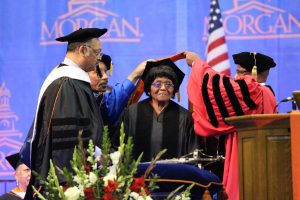 On a freezing cold morning in December, hearts were warm as 400 students, their families, university faculty and honored guests sat in the Talmadge L. Hill Field House with anticipation of participating in and witnessing the rights of passage that is graduation. The room filled quickly with lively spectators, excited to see their loved ones honored with diplomas. Outside, flowers were being sold for the ones who forgot in the midst of all the excitement.     December 18, 2015 marked the third Winter Commencement Exercise at Morgan State University. It also marked the fifty years that have passed since the Voting Rights Act was signed by President Lyndon B. Johnson on August 6, 1965.
Before the students in the field house could be officially become alumni, they first had to recognize some of the students and civil rights leaders that had come before them. The keynote speaker for the ceremony was civil rights activist, Baptist minister and politician Rev. Jesse L. Jackson Sr., who gave an inspiring speech entitled, "From Freedom to Equality; Containment to Development". With eyes locked in with engagement and hearts overflowing with pride, the audience chanted the words, "I am somebody" in unison with Rev. Jackson.
In his speech, he went on to say that America is four years away from the 400 year anniversary since millions of Africans were shipped to the New World as part of the Atlantic Slave Trade and how, even though they were freed from slavery, the march towards equality continues in America.
"You are all called to serve and to advance change towards the goal of equal protection and equal opportunity to pursue justice and mercy," Jackson said, "We are all neighbors with many languages with one message – human rights for all human beings, measured by one yardstick."
Almost 60 years ago, Autherine Juanita Lucy Foster fought for one of the most fundamental human rights of all, which is the right to an education. She was the first African American to be admitted to a white public school in Alabama and to the University of Alabama. In 1956, after three years of court battles, Foster became one of America's early pioneers in the fight to dismantle the system that had segregated the nation for years. It was important to President David Wilson that the audience met Foster and heard her story.
"Her role in history is too important for the younger generation not to know who she is," President Wilson said.
Foster was presented with an honorary Doctor of Public Service degree for being the "incredible trailblazer" that she was. In her acceptance speech, Foster mentioned that she had been offered doctorates in the past from other universities, but she refused them all. It was a connection, formed by community that made her have a change of heart.
"When Dr. Wilson talked to me, he told me he was from a place that's very dear and near to my community, then I said, 'Well I'll have to go'," Foster said with a sweet smile, "If a member of Marengo County would like for me to accept the doctorate, I'm going to accept it."
Wilson grew up in Marengo County in Alabama and has known about the story of Foster's brave decision to stand up for her right to an equal education since he was eight years-old.
"I convinced her that there were so many individuals here on the East Coast who did not understand that the movement to integrate traditionally white institutions in America started with her," President Wilson said.
Morgan students also collectively played a pivotal role in the early onset of the Civil Rights Movement. Years before the world became familiar with the sit-ins in Greensboro, North Carolina, there were sit-ins happening in Baltimore, Maryland. Many Morgan State College students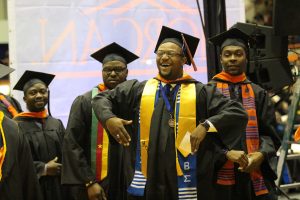 orchestrated and participated in the peaceful protests and displays of civil disobedience that occurred during the years 1947-1963. Their actions later led to the desegregation of Ford's Theatre in the 40s, Read's Drugstore in the 50s, and Northwood Shopping Center's Rooftop Restaurant in the 60s.
On a day that most college graduates would feel belonged to them, the venue was filled with a humbling silence followed by a roaring applause after they were introduced to the students that came before them and inevitably fought for them in united efforts to attain equality. This group is known as the Morgan Student Civil Rights Pioneers and awarded them,as a group, honorary doctorate degrees in Law.
"Our students who graduated today and the students who are at Morgan, and the students who will come to Morgan in the future, must understand the role that the Morgan Student Civil Rights Pioneers played in advancing the cause for civil rights and inclusion and human rights in this country," President Wilson said after the commencement ended.