Until this year, sophomore Gene Alestock II, could ride around campus on his bike, with smoke trailing him.
Because of the new campus-wide ban on smoking, Alestock II and other smokers have to resort to smoke on the softball field when the weather permits.
And Alestock is not happy.
"The policy is annoying to me and most of my friends," said Alestock II,19, a smoker since high school. "I understand that the policy is to beautify the campus and promote health but we're adults and we should have the choice."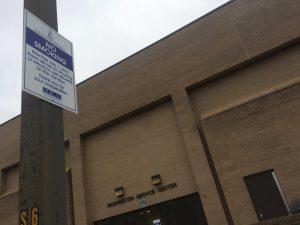 The smoke-free policy, enacted July 1, states "Smoking is prohibited on all property owned, leased or operated by Morgan State University ('University'). This consists of buildings, including residence halls; all grounds, including exterior open spaces, parking lots and garages, on-campus sidewalks, streets, driveways, stadiums, recreational spaces and practice facilities; and in all University-owned or leased vehicles."
There are eight strikes when it comes to the smoking policy. By the eighth strike, a student will be recommended for termination.
The policy is in effect throughout campus. However, because the softball field is not a part of MSU property, it is considered safe grounds for smokers.
Although the policy has punishments, there's confusion over who exactly enforces it.
Interim MSU Police Chief Lance Hatcher said that enforcing the policy is not his department's primary focus.
"It's not just a policy that the police are going to enforce; it's not a law, it's a policy," said Hatcher. "We don't necessarily enforce policy per se, however any supervisor, administrator can enforce this policy. It's not really a police matter; we're not the smoking police."
However, in a Thursday press conference MSU Provost Gloria J. Gibson had a different view on who enforces the policy.
"The enforcement is public safety," said Gibson, also senior vice president for academic affairs.
If a student or faculty member is caught smoking on campus by another faculty member, they will be referred to the Office of Student Affairs.
Vice President of Student Affairs Kevin Banks said in an email, "Only students found to be in violation of the Smoking Policy may be issued a citation and referred to the Office of Student Rights and Responsibilities." He went on to say, "Faculty and staff will be reported to Human Resources and then the individual's supervisor, department head/chair, or Dean may be notified of the violation."
No matter the confusions of the policy, Alestock still doesn't like it.
"I think it's ridiculous that they are trying to have professors follow the policy as well," said Alestock. "These are people that have to deal with hundreds of students a day; if they want to step out for a smoke, I say let them."