Morgan State University alum Raymond Scott Dingle was officially promoted to Brigadier Gen. at Fort Myer, Virginia on Thursday, making him the 16th General Officer to graduate from the school.
Gen. Dingle, who is originally from Prince George's County, has served almost 30 years in the United States Army since his graduation from Morgan State in 1988. His overseas experiences include tours in Iraq, Afghanistan and, most recently, a command post in Germany.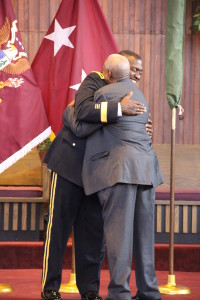 Originally, Gen. Dingle had no plans on serving in any branch of the armed forces. Growing up, he said his father, who served in the Air Force for 20 years and the Capital Police for another 20, would tell him, "You're going to West Point." Also a stellar athlete on the track and football field, Gen. Dingle was recruited by Virginia Military Institute as his high school career came to a close. He would eventually opt for Morgan State to the dismay of his father, but said "I made a promise to my dad and said 'let me go where I want to go and I promise I'll take ROTC.'"
However, the road to commissioning as a 2nd Lieutenant was not graceful for Gen. Dingle. Even after signing up for ROTC, he wanted no part of the program. "I tried to do everything to get kicked out of ROTC," said General Dingle.
By the time Gen. Dingle began to embrace his commitment to the Army, he was presented with a career shifting decision after his now wife Sonja became pregnant with their first child. He scratched his original plans of being an Army Reservist while establishing a law firm with a few of his Omega Psi Phi brothers and, with the help of his Professor of Military Science, entered the Active Duty Medical Service Corps when he commissioned.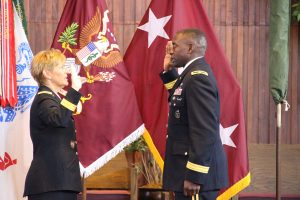 Gen. Dingle's promotion ceremony was filled with candid praises from many people he worked with throughout his career. His father said this is a common trend when he meets men and women who crossed his son's path, to the point that he jokingly said his son "was trying to walk on water."
Outside of his household, Gen. Dingle cited his PMS as well as one of his former football coaches Vietnam veteran and Silver Star recipient Retired Colonel George Forest, as two pivotal collegiate influences that recognized his potential to get to his current status early on. "He had all the skills necessary," said Forest. "I was very impressed with him."
"I'm proud of him," said his father Raymond, who has only missed one promotion ceremony in Gen. Dingles's career. "[The Army] made him a better man." Forest added, "Morgan was a springboard for a lot of people, but the Army helped mature [him] and helped him develop into the general officer that he is."