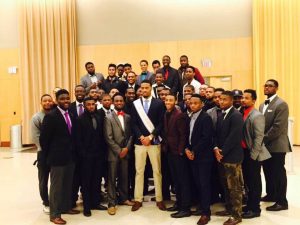 Morgan State University's Strong Men Overcoming Obstacles Through Hard-Work (S.M.O.O.T.H.) organization hosted their fifth annual "S.M.O.O.T.H. Café" talent show last Thursday in the Student Center ballroom.
Audience members wore some of their finest suits and dresses for the formal affair that showcased a handful of local talents including musicians, dancers, comedians and poets.
S.M.O.O.T.H. is a community service based organization that intends to build male students into better men beginning in their freshman year, but acceptance into the organization is open to all classifications.
"We wanted to have a chill, relaxed jazz type of vibe," said Nadif Bracey, junior Electrical Engineering major and Mr. S.M.O.O.T.H. for the school year. "We wanted to make it different from any other talent show that a lot of other organizations have."
With the wide array of performances during the evening, one that stood out to students was the singing of a 14-year-old girl who was a last minute addition to the lineup. "I was blown away by her voice," said Reggie Rogers, sophomore Information Systems major and S.M.O.O.T.H. member.
"She's the president's girlfriend's little sister, and he told me that she's doing a lot of good things down in North Carolina," said Bracey about the teen talent.
S.M.O.O.T.H. Café also featured a lite version of a fashion show in conjunction with IME Models and line dancing during intermission.
Bracey expressed a slight disappointment with what he identified as a miscommunication between S.M.O.O.T.H. and the University that resulted in having the entire ballroom to use. "We didn't want it that big; we didn't want to mess up the image of S.M.O.O.T.H. Cafe which is the 'professional,' a little more upscale look," he said. Nonetheless, he was satisfied with the turnout  and expects next year's show to be even better.