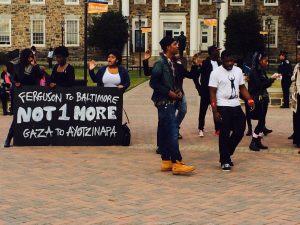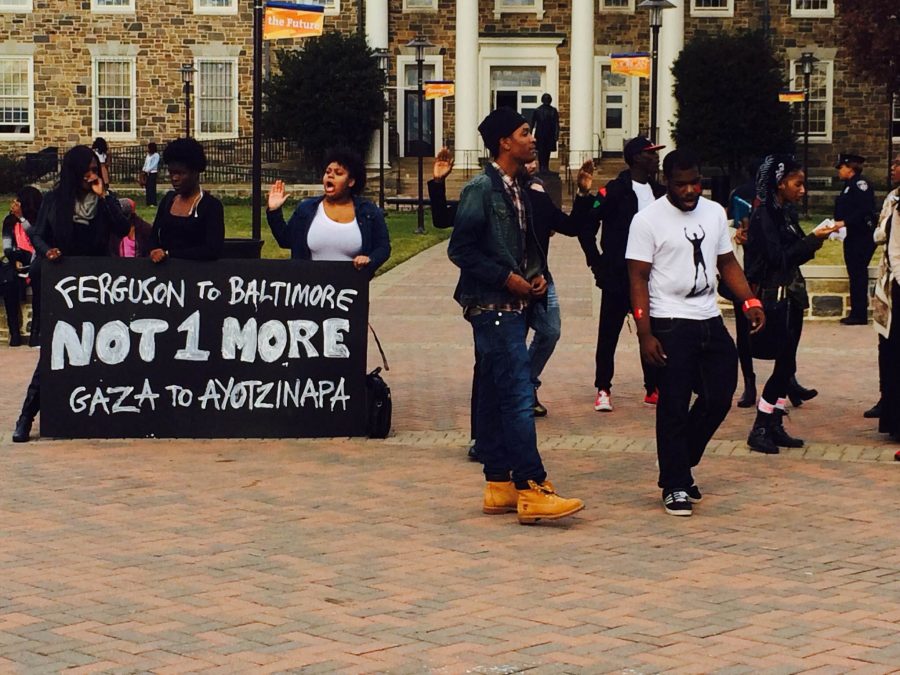 By Ivy Harrington
At 1 p.m. today, roughly 30 students gathered on Morgan State University's campus quad, singing in unison "I got a feeling, I got a feeling, oh yeah, I got a feeling that somebody's trynna hold me back, and it ain't gonna be no [stuff] like that."
Morgan students joined students across the country on a "National Walkout for Ferguson."
Rally leaders invited students walking to and from classes to join in the march that ended at the intersection of Hillen Road and Coldspring Lane. "No justice, No peace. Hands up, don't shoot!" protestors chanted.
A Baltimore City police officer, who declined to give her name, was monitoring protesters and weighed in on the protest. "As police men and women, our intent is not to harm anyone in any way, shape, or form," she said. "We strive to help everyone, be of assistance and to give others a different outlook. When situations arise, decisions that affect other people's lives, including the officer's, are made in a split second. We do our best to address each incident individually on an isolated case by case basis."
She stood in the Quad watching protesters. "What you young people are doing is a powerful thing, but what exactly is your goal?" she asked. "Keep in mind what your motive is. Let positivity be your driving force in all that you choose to do. If you are not a part of the solution then you are a part of the problem."
Senior Michael Watkins, a protestor, said he appreciated "the chance to be a part of the rally that made headlines." He participated in the protest here last Tuesday, as well. "I've taken away so much from what has been happening on campus over the past week. Our actions speak much louder than anything we chant or shout. I want to be able to say, 'I was a part of something bigger, my shoes have walked that journey.'"
Student leaders emphasized that "knowledge is power" and reminded students to pay attention to politics and the economy, that these issues are connected for the black community.
The protest wound down at 3 p.m. as students returned to class.