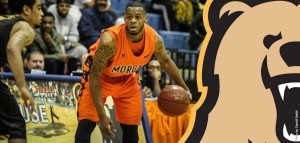 The shot looked perfect leaving the hands of freshman guard C.J. Vaughan, but as the ball rimmed out, so did Morgan State's chances of winning their first home game of the season against nearby Towson University on November 17, who left Hill Field House with a 51-46 win.
Coming off a loss to Penn State the previous Friday, the Bears looked to redeem themselves in Hill Field House against a Tigers team who was also 0-1.
"I drew that play up for C.J., but I'll take that nine out of 10 times," said Head Coach Todd Bozeman after the game. "He can really shoot the ball. He just didn't make the shot."
The Bears did not hit the ground running in the opening half, but they were never completely out of it either. Towson never lost their lead in the half, which reached as high as nine points. However, Morgan's defensive presence at the rim, led by graduate student Zech Smith (3 blocks) prevented the Tigers from opening the score margin any wider. "We're pretty happy with the way we're playing defensively right now," Smith said.
Coming out of the halftime break and down 25-22, the Bears went on a 9-1 run and claimed their first lead of the game following a converted and-one basket from senior guard Blake Bozeman. Towson clawed back into the game before the momentum took them out when point guard Four McGlynn turned a Donte Pretlow turnover into the tying basket at 39 points.
From that point, Morgan State was forced to play HORSE with every possession. As with their last time being behind, the Bears stayed close. With under 20 seconds left, though, they needed a little more than to just match Towson's last bucket as they faced a three point deficit at 49-46.
There was enough time. Towson didn't contest the inbound, and the Bears were able to let it roll halfway down their end of the court before picking it up. When Vaughan got the ball, his shot was hardly challenged. As chance would have it, this shot just wasn't the one to fall.
"We just gotta capitalize on opportunities," said junior guard Donte Pretlow, who led the Bears with 13 points on the evening.
Coach Bozeman expects the team to learn from the close loss and improve, noting that it's still early in the season. "It's about being better in March," he said.
The Bears next home game will be on December 16 against University of California-Irvine at 7 p.m.
Photo by MSU Athletics.