Bears Dominate CIAA Opponent Bowie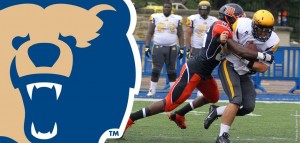 The Morgan State Bears defeated the Bowie Bulldogs 28-3 in the first home game of the season. The first half got off to a slow start with Morgan not scoring a single point and Bowie leading by 3 at the end of the half. The second half was completely dominated by the Bears, who scored 28 points.
All of the 28 points came from rushing touchdowns. Morgan's star running back Herb Walker Jr. had two of the rushing touchdowns with a total of 182 yards. Walker also averaged an outstanding 9 yards per carry. Morgan's quarterback Robert Council had the other two rushing touchdowns with 73 yards.
"It was a great win," said senior defensive lineman Bradley Sánchez after the game, "the defense came out an executed their plan and the offense did a great job as well." Senior Defensive End Christopher Robinson recorded 5 tackles with 4 of them coming from sacking Bowies Quarterback.
"Both teams played hard but our defense over powered them," said second-year defensive line coach LeAndre Creamer. "Our overall goal is to win the championship. We are taking it one game at a time."
Morgan State's next game will be against another MEAC rival, Howard University for the NY Urban League Classic. The next home game will be on October 18th at 1 o'clock PM.
Photo by MSU Media Relations
Correction: The original headline read "Bears Dominate MEAC Opponent Bowie. It has been corrected to reflect that Bowie State University is in the CIAA, not the MEAC.