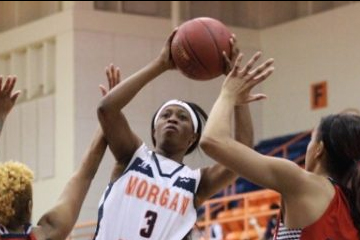 Morgan State University's women's basketball team has added nine new players to the team to prepare for their upcoming season, which began yesterday evening.
The new recruits bring a diverse set of skills and experiences that can help reshape the team's dynamic.
Associate Head Coach and Recruiting Coordinator Donchez Graham said many of their older members have graduated and they needed to bring in new players to fit the powerhouse team they aim to build.
"We wanted tough-minded players who are aggressive, highly coachable and are highly motivated players," said Graham. "We wanted players who were ready to take the opportunity to take their skill levels and performances to the next level." 
Among the new lineup is freshman Amari Smith, a versatile wing player. Smith graduated from Menchville High School in Virginia, where she was the All-Tidewater Girls Basketball Player of the Year in 2022. Freshman Tamaria Rumph, a point guard new to the team, accompanies her and graduated from McCatchy High School in Sacramento, California.
Senior Brooklyn Jones is an athletic guard and transferred from Niagara University in Lewiston, New York, where she was a member of the MAAC All-Academic Team. Jones a career-high of 22 steals, 18 assists, 90 points and 65 rebounds in her junior year. 
Returning players include Kaia Ponder, Emily Jones, Sedayjha Pyne, Jael Butler and Gabrielle Johnson, who were on  the preseason all-MEAC second team.
Assistant Women's Basketball Coach Janelle Silver-Martin said she's excited about the new recruits and expects all of them to work together and produce great results this season.
"We've been deliberate in selecting these players to enhance our team's strengths and cover any existing gaps," said Silver-Martin. "We are trying to get big and keep that post presence that Morgan State is used to having. All of the freshmans and incoming players … can shoot from anywhere on the court." 
Ponder, who is scheduled to return from a two-year injury, said she wants to make a name for herself and believes the new players fit into the team, strengthening their cohesion.  
"Having five returns was questionable at first but the new players came in and fit right in with us. I believe everyone will be able to play their role very well," said Ponder. "As a leader, I believe I can bring the team together as I have a lot to prove to myself and [the] university."
The Lady Bears began the upcoming season with their first home game against University of Maryland Eastern Shore in Hill Field House at 5:30pm this yesterday. 
According to Graham, the team has two main goals for the season: secure a conference championship and present themselves as strong competitors in the national tournament. 
Coaching staff said the team has worked together well thus far and they have high expectations for this season.
The women's basketball team is scheduled to face several established teams such as South Carolina University, University of Central Florida, Oregon State and Stanford University.
Graham said she believes the team is much stronger than before, making their goals feel more tangible.. 
"We are trying to make history: win the MEAC regular season championship and win the MEAC tournament," said Graham. "The energy with this group is off the charts good, we have some lofty goals but with this group everything is possible."