The Bears' last game was nearly three weeks ago against Yale's Bulldogs — which ended in a resounding loss 45-3, their biggest loss of the season on Sept. 30.
The Bears' next game would have been their homecoming game against Stony Brook on Oct. 7, wherein they sought their second win of the season and the end of their four-game losing streak. However, a mass shooting rocked Morgan's campus and left five injured in the midst of homecoming week.
Morgan President David Wilson and several members of university leadership decided to cancel or postpone all homecoming activities as well as classes for the remainder of the week — which included the Bears' game against Stony Brook.
Senior Linebacker Lawrence Richardson said he felt disappointed when the Bears homecoming game was canceled.
"That definitely hurt, it is something that I cannot take back now," Richardson said. "I do not know if we are going to play that game or not …  this is my first time experiencing something like that — my first time since I've been here."
Canceling the game against Stony Brook has allowed the Bears nearly three weeks off and today, the Bears will end their unexpected hiatus and face the North Carolina Eagles this evening at 7:30p.m.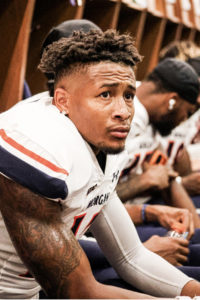 Heading into this game, senior Wide Receiver Treveyon Pratt has been a primary option for the Bears' offense. Pratt —  who has 16 receptions for 204 receiving yards with two touchdowns this season — transferred from North Carolina Central to play for Morgan. He said that while there is nothing personal between him and his former team, he has one thing on his mind.
"Before I left there, the receivers coach told me that they were 3-0, so they really didn't need me," said Pratt. "So we [are] going to see if they didn't need me." 
Offensive Lineman Dexter Carr Jr. said the game being canceled was unfortunate but it has allowed the team more time together.
"We all were checking up on each other," said Carr. "Two weeks ago we went to a buffet and it brought us together. Something off the field like that is going to carry onto the field with that chemistry — and we've been getting extra work in."
The Eagles currently lead the MEAC division with a 5-1 record this season. The Bears' are in fifth place in the MEAC conference and this game will be their first conference play of the season.
Antone Sewell, Bears' assistant head football coach and defensive coordinator,. said this game would also end the Eagles' bye week and had given them time to prepare as well.
"We are hoping that when we come out Thursday night we will be prepared. It's obviously been an unprecedented time for us," said Sewell. "It's not necessarily going to give us an advantage because they had a week off to prepare for us also. For me, my mindset has been sort of like a camp deal — just trying to lock in on the fundamentals." 
The Bears' game against the Eagles is scheduled to begin tonight at 7:30 p.m. at Hughes Stadium.