"It feels different here," Joelle Johnson said, describing her first few weeks at Morgan. After three different university stints, Johnson transferred to Morgan as a graduate student to continue her basketball career.
Johnson was first recruited by Georgia State University, where she began her undergraduate education and averaged 3.8 points and 3.2 rebounds per game. After transferring  to Northern Kentucky University her junior year, she registered 5.7 points and 2.7 rebounds per contest while shooting 47 percent from the floor and 34 percent from long range.
She continued her journey to Northwestern State University where she saw action in all 29 games on the 2022-23 season and made 4 total starts averaging 8.3 points and 3.9 rebounds per game that year.  
"After my two years with Georgia State, I used the free transfer NCAA offered us and went to Northern Kentucky, and after one year Northwestern State took a chance with me and found a waiver for me called the "runoff waiver" than enabled me to transfer that year," Johnson said. "Then this past year all the waivers were gone so I had to graduate in order to transfer."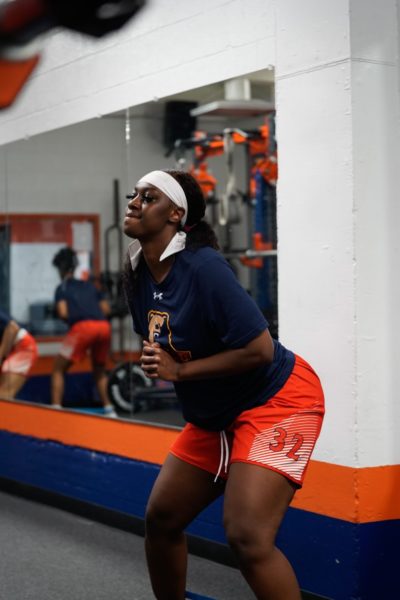 The National Collegiate Athletic Association (NCAA) Transfer Portal was first launched in the fall of 2018 and became a hotspot for student-athletes and coaches who were unhappy with their current programs. The free transfer rule, which was adopted in April 2021, allows all athletes in all sports the ability to transfer one time and receive immediate eligibility at their new school.
A second transfer, however, would require the student athlete to redshirt. Redshirting means that a full-time student sits out of competitive gameplay for a year, but practices with the team and is still eligible for athletic scholarships.
Edward Davis Jr., head coach of the Morgan State Lady Bears, said that the transfer portal has allowed him to rebuild his team in areas that he has lost in previous years. It granted him the opportunity to assess players who have experience and "positive energy" to the school's women's basketball program.
"The negative side of accepting these transfers is you never know what it is you're going to get, the reasons they are transferring and the possibility that the problems they had before may come to your program," David said.
The runoff waiver, which Northwestern State attained for Johnson, is available to players who are seeking immediate eligibility at a new school because a member of the coaching staff has no intention of playing him or her again. In Johnson's case, the waiver allowed her to play her second transfer year.
"The waivers and the circumstances really played a part in my ability to move from schools to schools and not redshirt," she said. "I was doubtful about graduation, I didn't think I was going to be able to graduate but I had a lot of good people that helped and made a way for me to graduate at this last school [Northwestern State University]."
Johnson left her previous schools because she wanted more for herself and her career. She stressed that her three transfers have been hard on her matriculation as a student.
"It's been difficult behind the scenes. I shouldn't have had to take classes over the summer to graduate, I should've been able to just graduate with my credits," she said. "But I lost a lot of credit with having to change schools so much and that affected me a lot, I even had to change my major a couple times."
Marquis Johnson, academic advisor for student athletes, said that while he fully supports student athletes making decisions that are best for them, it comes at a cost that may hinder their overall student-athlete development. He adds that many credits do not transfer easily into certain majors and this may potentially lead them to pursue a major they have no interest in for eligibility.
"On one hand, I firmly believe that the athletes should have their choice in going to a school that they feel best meets their needs both on and off the field," he said. "On the other hand it is a disaster for the overall landscape of college sports as coaches get dinged for lack of retention because an athlete made the decision to leave."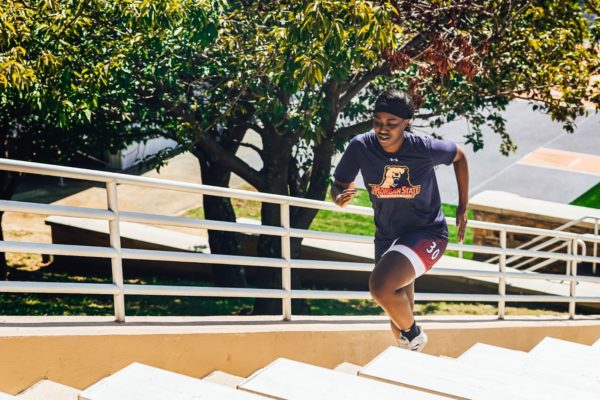 Coach Davis believes transferring from a predominantly white institution (PWI) to a historically black college or university (HBCU) can be a major change culturally.
"It's just a matter of change, change in academic situations, their culture and really just wanting to round things that connect with where they came from and being in an area more diverse to them," he said.
Johnson said she always wanted to make an HBCU her home, but she was never recruited by one until now.
"I just wanted to be around my people really. I wanted to do it for culture," Johnson said. "It's definitely fun seeing a lot of Black people be great and just doing a whole bunch of different things."
"It feels different here. As soon as I got here my teammates were just welcoming and we have been hanging out a lot," Johnson said.
She plans to do whatever the team needs in order for them to come out on top. She believes the team has what it takes to be champions, and she's seen their potential at their daily practices.
"I've always said I've been in college for four years and don't have anything much to show for it, so I feel like it's time we go out there and win the MEAC," she said. "They always get so close to winning and this time I just want to help them put the icing on the cake."