As part of their commitment to the future of sports at the university level, Under Armour, a multi-billion dollar American sportswear company that manufactures footwear and apparel, is on a mission to become the champion of change in the classroom, on the field, and for the future for students of color. 
The sportswear company announced their plans to begin partnering with historically Black colleges and universities back in 2022, as a means of creating "opportunities for millions of youth to engage in sports by 2023," according to the brand's website. 
The decision came from Chief People and Administrative Officer (and graduate of Alabama Agricultural and Mechanical University, an HBCU) Tchernavia Rocker and other HBCU graduates at the brand who proudly represent their HBCU-alumni status and wished to amplify the impact of such institutions via the Under Armour company.
Rocker affectionately referred to Morgan State University as the brand's "hometown squad" seeing as the Under Armour headquarters are located in downtown Baltimore City. They figured the HBCU would be just the place to begin their efforts. 
Since the announcement, Under Armour has included both Howard University and Jackson State University in their sportswear collaborations. Recently, the Jackson State and Under Armour crossover resulted in a documentary that was released this year.
Overall, the mission of the initiative is to dismantle the barriers that restrict other HBCUs and Hispanic-serving institutions throughout the country from access to sports and the promotion of healthy lifestyles.  
The brand visited the Morgan in June where they met with two members of the university's football team:  Jabriel Johnson, running back and Lawrence Richardson, linebacker. Together they participated in a lifestyle-centered photoshoot where they allowed the players to style the brand's new releases using their own creativity. 
In doing this, representatives of Under Armour allowed the athletes to be unapologetically themselves in promoting the connection between the university and the brand.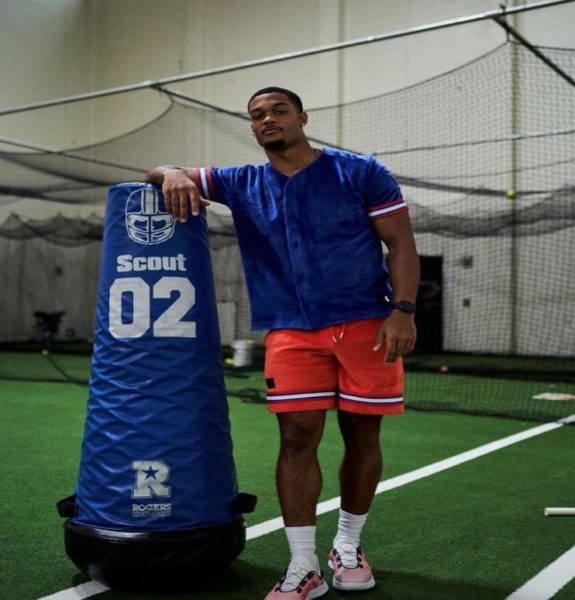 Johnson believes that the semi-NIL partnership deal–a National Collegiate Association (NCAA) policy that allows student-athletes to market their name, image, and likeness for compensation– will be great for Morgan and its football team as time progresses. He says it's exactly what the team needs to attract new players and build on their current reputation.
"I believe it was a great opportunity for me to represent my HBCU and work with a big brand like Under Armour on such a huge stage and bring attention towards the school this upcoming season in the fall," he said. "It will also give us the motivation we need to perform well and be able to get opportunities like this again." 
Together, Johnson and Richardson visited the Talmadge L. Hill Field House multipurpose room and the weightroom where they showcased the team's new equipment in the shoot.
Nana Asante, a pass rusher, is also a member of the team and regularly models for Under Armour. He thinks the partnership will considerably benefit the university. 
"It feels amazing. This is honestly a great look for the football team, we have a lot of great players and now, with Under Armour we can be exposed and put Morgan State on the map," he said. "This is amazing and people will be able to see that we are building something at Morgan."