A look back on ILMW stroll competition
Review the annual stroll competition hosted by the Alpha Chapter of Iota Phi Theta Fraternity, Inc.
The Alpha Chapter of Iota Phi Theta Fraternity Inc. hosted their 15th annual stroll competition on April 26.
The highly anticipated stroll competition coincided with the annual "I Love Morgan Week."
Morgan State's chapters of Groove Phi Groove Social Fellowship, Inc, Tau Beta Sigma Honorary Band Sorority, Phi Beta Sigma Fraternity, Inc., and Sigma Gamma Rho Sorority, Inc. participated in this year's event.

The four chapters put on a show for an audience at the competition.
The winners of the competition were The Gamma Chapter of Phi Beta Sigma Fraternity Inc and The Beta Tau Chapter of Sigma Gamma Rho Sorority Inc.
Tyrone Fowlkes Jr., hosted the stroll competition alongside Kysha Hancock, Miss Morgan State University. Fowlkes Jr. talked about how this year's competition was compared to previous years and its success.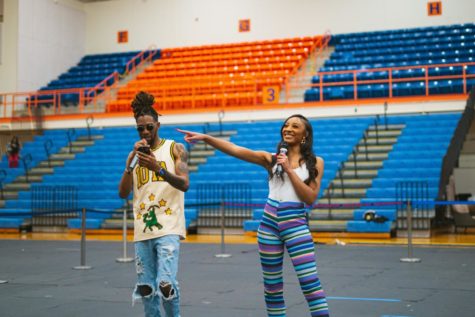 Fowlkes added that this year's competition felt "a little more prepared" compared to last year's competition, especially since they were rebounding from restrictions from the COVID-19 pandemic.
The pandemic did hold the size of the event last year. This year, their plan was to bring in the community as well. 
"This one really touched more so of the community than anything else," said Fowlkes. "Bringing the kids in brought a whole different energy. It brought a different level of youth."
In terms of preparation, Harold Antione said, it took about "four months" for them to prepare for the stroll competition.
"We had to contact the teams and we had to ask for the school's approval for the space," said Antione. "We had to contact ticket master, we had to get staff t-shirts, we had to get the DJ. It's a lot of work and equipment."
Fowlkes said they did reach out to some of the Divine Nine 9 organizations, but there were some scheduling conflicts.
The competition was still a huge success though. Fowlkes stated that they were "allotted to give 500 tickets to Baltimore City Schools" to have the high school kids exposed to Greek life on campus.
"I can't even tell you how many people were with us [and] how many tickets we sold," said Fowlkes. "But it was a great turnout. Great sequel to what happened last year."