Two Robberies in Two Days: Morgan students allegedly robbed minutes from campus
Morgan students reported two robberies nearby campus within 26 hours.
Consecutive robberies in broad daylight near Morgan State University leave Baltimore City police to investigate the matter.
On Thursday morning, Morgan State Police emailed a safety alert to students with the subject "Off Campus Robbery." Friday afternoon, students received another nearly identical alert. 
May 4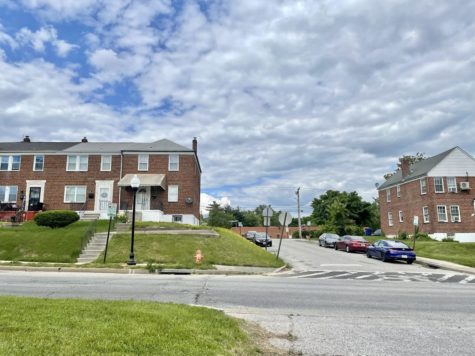 In the first incident, three suspects reportedly approached a male Morgan student at approximately 8:30 a.m. as he was on his way to campus, according to Larry Jones, assistant vice president of public relations and strategic communications.
The robbery took place near the 1500 block of East Cold Spring Road and Fenwick Avenue, according to Jones. The estimated location is approximately .3 miles (or a six minute walk) from Morgan's Calvin and Tina Tyler Hall. It is also approximately .2 miles (roughly a three minute walk) from Morgan View, an off-campus apartment complex for Morgan students.
Three suspects, described in the alert as "Black males, teens – early 20s. Wearing black [ski] masks, black, blue and gray under armour sweatshirts," allegedly approached the victim and demanded his belongings.
The victim reported that the suspects implied they were armed, however they never brandished a weapon according to Jones. Jones said the student was robbed of his iPod, iPhone and the Chanel sneakers he was wearing.
According to the alert, the victim was not injured.
Jones confirmed that the suspects fled on foot have not been found. The incident was turned over to the Baltimore Police Department to conduct an investigation as it occurred off- campus.
"They have the descriptions that were provided by the student and they did search the area. They have not found the suspects," Jones said. 
The alert released Friday afternoon was nearly identical to the alert released on Thursday.
May 5
On Friday, another Morgan student reported to the Morgan State University police department (MSUPD) that he was robbed on his way to class, this time on the 4600 block of Hillen Road at approximately 10:00 a.m. 
4600 Hillen Road is an estimated .1 miles from the intersection of Fenwick Ave and 1500 East Cold Spring Lane, the site of the robbery the day prior.  
The robbery's location was referenced as 'off-campus' in the crime alert, and is an estimated 223 feet (a one minute walk)  from Calvin and Tina Tyler Hall. Jones describes the area as being either the sidewalk near or across from Carter-Grant-Wilson Administration Hall.
While this area may feel like it is on campus to students, it is technically Baltimore City property, and the incident will also be investigated by the Baltimore Police Department, according to Jones.
He said the victim of Friday's robbery is a Morgan View resident, however it has not been confirmed whether he was coming from Morgan View at the time of the incident.
Similarly, the victim was male and was approached by three male suspects who "implied they were armed and demanded the victim's belongings." The suspects have been described as three black males of the same age range as the day prior, again in black [ski] masks, this time dressed in black clothing.
Jones recognizes that they "may very well be connected with the robbery from yesterday," however the assailants fled and have not been identified.
According to Friday's crime alert, the suspects fled on foot southbound on Hillen Road and have not yet been apprehended.
This time, the victim was robbed of cash, not his shoes or electronics. 
The Northeast District of BPD is working with Morgan police to increase patrol in the area. Additionally, camera footage from off campus is being reviewed in an attempt to identify the culprits. 
Past Crime Off Campus
The university's open campus, Morgan View and the surrounding areas have all been areas of safety concern in recent years. 
The location of the armed robbery, 1500 block of E Cold Spring Road, is frequented by Morgan students living in off-campus housing including Morgan View and Marble Hall Gardens. It is also approximately .2 miles from 4700 Loch Raven Blvd, a site of violence in 2019. 
On July 11, 2019, a 19-year-old Morgan student, Manuel Luis was found fatally shot at 4700 Loch Raven Blvd "during what investigators believe was a robbery gone wrong," according to CBS Baltimore.
During the fall 2022 semester, there were at least three shootings on or around campus. When students returned to campus for the spring 2023 semester, they were greeted by metal detectors in student housing, an initiative Kevin Banks, vice president of student affairs said was in response to violence surrounding Morgan's campus.
Additionally, many personal safety devices like pepper spray and tasers, often carried on and around campus by students for protection have been confiscated and are prohibited in the student code of conduct, according to Jones.
According to the Morgan State University 2022 Campus Security and Fire Safety Report, there were zero robberies on campus or in the surrounding areas in 2019 and two in 2020. In 2021 there were seven instances of robbery, not including crime statistics from the City of Baltimore. 
"Our crime statistical data is gathered from areas on campus, public property immediately adjacent to campus and from non-campus property," the report reads. 
Lance Hatcher, Morgan State University chief of police was unavailable to comment.