Journalistic excellence honored with Vernon Jarrett awards
Wesley Lowery and Yanick Rice Lamb received the Vernon Jarrett awards for their coverage of African-American life.
Each year, Morgan State University's School of Global Journalism and Communication recognizes outstanding journalists with the Vernon Jarrett medal for journalistic excellence and reporting on Black life in America.
The award honors the late Vernon Jarrett, a prominent Black journalist who dedicated his career to covering race relations and African American history.
Wesley Lowery, Pulitzer prize-winning journalist, and Yanick Rice Lamb, Thomas L. Stokes-winning journalist, received the honors on Thursday at the National Press Building in Washington D.C. 
Lowery won a $10,000 prize from the School of Global Journalism and Communication and a summer internship from Morgan in recognition of his work, "Black City, White Paper."
"I think that it is always the most moving and the most special to receive recognition from your own people," Lowery said.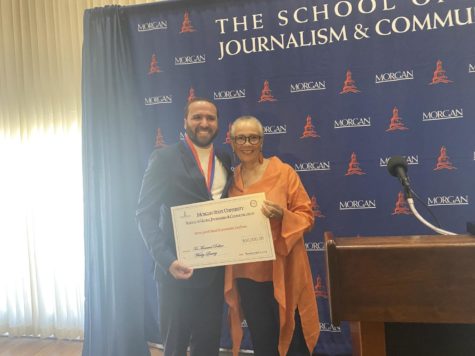 Lowery is an author and contributing editor at The Marshall Project. Lowery is a former national correspondent at the Washington Post that specialized in racism and law enforcement. He won a Pulitzer Award for national reporting in 2016 for a comprehensive study on the rate of fatal police shootings in the U.S.
Lowery's award-winning article was an investigation into the Philadelphia Inquirer's racial uproar in the wake of George Floyd's murder in 2020. The article goes into depth about how Floyd's nationally viewed killing became the turning point of the racial climate in America in the midst of the COVID-19 pandemic.
"Beyond that, our job as journalists is to try to reflect and create a record of the world as it is currently and very often we [People of color]  are going to have editors, bosses, colleagues who can't quite see the things that we see because they don't experience them the way we experience them," said Lowery.
"So it's a 'fundamental tension' in being a minority journalist."
After Lowery's recognition, Lamb was honored with a $7,500 prize from the School of Global Journalism and Communication along with her medal in recognition of her work, "Unintended Consequences: The Rubber Industry's Toxic Legacy in Akron."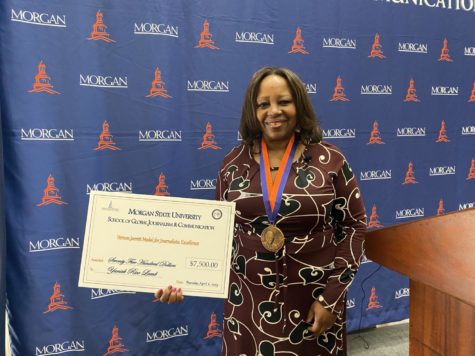 "It feels wonderful, it has been an incredible week," said Lamb.
Lamb is a professor in the Cathy Hughes School of Communications at Howard University. Lamb is the former chair of the department of media, journalism and film at Howard. Lamb was also the editor-in-chief of Heart & Soul and BET Weekend and an editor at the New York Times.
Lamb's award-winning work is a three-part series that was co-published by the Center for Public Integrity and Belt Magazine. The article talks about the harmful effects of working in the rubber industry in Akron, Ohio.
Students and faculty from Howard University joined the School of Global Journalism and Communication's board members, Morgan students, family and friends to watch Lowery and Lamb receive their Vernon Jarrett medal. 
Jacqueline Jones, dean of the School of Global Journalism and Communication, welcomed the attendees with a warmful opening remarks as she introduced both of the Vernon Jarrett honorees.
Jones has known both of the recipients for more than twenty years. 
"It feels great to spend time with people and to watch them grow and develop as journalists and they work really hard to help people and to finally get their dues, it's just amazing," said Jones. 
"To see so many incredible student journalists and other journalists that I've worked with and grown up in the industry with over the years is really wonderful," Lamb said.
Wayne Dawkins and Janice Smith, two board members for the School of Global Journalism and Communication, were chosen to represent their department on the judging panel for this year's Vernon Jarrett award deliberation committee. They both expressed their experiences as being a panelist was a very difficult task.
"I was very honored to be a judge for this competition because this is such a significant award," said Smith.
"It was excruciating but for the right reasons," said Dawkins.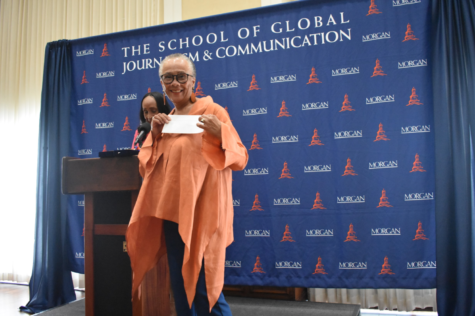 Jones received a $10,000 check on behalf of Sheila Brooks, president of SRB Communications, and DeWayne Wickham, dean emeritus of the School of Global Journalism and Communication, in contribution to student scholarships and program initiatives.