CBS Sportscaster James Brown lends wisdom to journalism students
James Brown, Emmy Award-winning broadcaster, discussed his career with students in Morgan State's School of Global Journalism and Communication.
"I didn't know anything about football," CBS broadcaster James Brown said, describing himself in the midst of his career.
Brown is a three-time Emmy Award-winning broadcaster with a lengthy career in broadcast journalism, including hosting The James Brown Show and The NFL Today on CBS Sports, 10 Super Bowls and much more. 
The Washington D.C. native first began at CBS Sports in 1987 and has since covered a variety of sports, including gymnastics, boxing and hockey. Brown is also a member of the Sports Broadcasting Hall of Fame and a special correspondent for CBS News. 
On Tuesday, students, professors and Baltimoreans alike gathered in the School of Global Journalism and Communication (SGJC) for the chance to meet Brown. Brown was joined by Dean Jacqueline Jones and Michael Cottman, assistant to the dean, who inquired about his experience as a journalist and sports insider before turning it over to the audience.
Brown, or J.B. as he's known to many, answered each question in depth and told stories about everything from gymnastics with Mary Lou Retton to interviewing Michael Vick from prison.
He often recalled when he was cut from the Atlanta Hawks, a pivotal moment in his life and arguably the beginning of his career. 
"Be hungry to learn," Brown told students. "I was. When I got cut by the Atlanta Hawks I didn't know what I wanted to do," he continued. 
Brown's perseverance inspired sophomore multiplatform production major Randolph Smith. "The biggest thing I took away from this experience was that it's never too late," Smith said. 
Brown detailed to students the fundamentals for success in media. He began with the importance of communication, a skill he traces back to his days at Xerox before he began a career in sports broadcasting. 
"Communication skills are more than just speaking. It's listening, which is perhaps the most important, and writing," Brown said. He continued by detailing the importance of being well-versed in the industry, timeliness and professional dress."God may look on the heart, people look on the outside," he said.
Morgan alumna Cimone Austin said "being versed in all topics" is something she will take away from the event. "Originally I wanted to get into the broadcasting thing and he kind of just opened my eyes up to different things you can do," she said.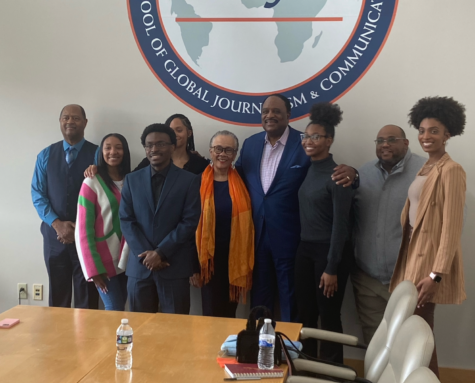 Throughout his career, the one thing that hasn't changed about Brown is his faith. Brown, who is an ordained minister, said "I do not compartmentalize my faith, I am who I am and I believe that the word is the truth."
"There are those who have a different belief and persuasion who were trying to sully my reputation by saying that I was embracing somebody who was anti-whatever. Not true and nor did I ever hear of that," Brown said, likely referencing an Outsports article from earlier this year.
"Tony Dungy and James Brown — two main faces of NFL coverage by NBC and CBS — have for years been featured speakers at an event hosted by rabidly anti-gay Christian evangelist Andrew Wommack, who has equated being gay to murder, among many other statements," the article reads.
"But even the writer of that article had to acknowledge that in all of his research, searching in places where I've gone to speak at men's conferences or churches, what have you, that he could not find one iota of anything where I propagate, perpetuate or preach a message of hate for anybody," Brown continued. 
The Outsports article reads, "Outsports cannot find any public commentary by Brown that disparages the gay community or opposes equality for LGBT people. While he is closely associated wit[h] the anti-gay Wommack and his Bible college, Brown has not publicly supported anti-gay doctrine specifically."
"Love is a choice and in the word it says, you know, I place before you today blessings and curses, death or life. And he gives you the answer when he says, choose love," Brown said. "Love is the key. What's called agape love, unconditional love of fellow man, that's what we're supposed to show. So the point is, it is a choice. I made my choice and other people can make their choice but I do not hold them against them."