Bears' season concludes after 80-64 loss in MEAC quarterfinal
The fifth-seeded Morgan State Bears lost to the fourth-seeded University of Maryland Eastern Shore Hawks 80-64 Thursday night.
NORFOLK, Va. — Morgan State's men's basketball team ran out of gas in its opening round of the MEAC Tournament.
It was win or go home — as coach Kevin Broadus had told his team. 
Fourth-seeded University of Maryland Eastern Shore sent the fifth-seeded Bears home, defeating them 80-64 in a game where the Hawks secured the lead and never relinquished it.
The two teams split the regular season series at 1-1. Each team won on the road. But this was a neutral site and things never seemed right for the Bears (15-16 overall).
"This is not who we are," said Broadus, whose team once again played with a roster shortened by injuries and without its leading scorer Malik Miller. 
The Hawks (18-12) played aggressively on defense and came out hot shooting from the floor, completing 53 percent (29-55) of their shots from the field and 70 percent (19-27) from the free throw line.
The Hawks pressured the Bears as much as they could earlier on. They forced them to make costly turnovers and tough shots. The Bears had to rely on shooting 3-pointers.
Hawks head coach Jason Crafton said he was proud of his team's defensive efforts.
"I thought we scrapped it up defensively," he said. "We talked a lot before this game that nothing was going to be different for us. We are just going to do what we already know how to do, which is defend."
The Hawks' leading scorer was guard Zion Styles who finished with 19 points. He also had assistance from his teammate, forward Nathaniel Pollard, Jr. who finished with 13 points, nine rebounds, one block, and four steals.
Pollard found his shot in the second half after a slow start. He had said that his mindset in the second half was to "keep going back to his roots" to do what he had to do for his team.
The Bears fell behind by 15 points with about four minutes left in the first half. They battled back and cut the deficit to as low as nine points before the Hawks would score again and lead by double digits going into halftime.
The Bears were playing with a depleted team but had some of their players come back just in time for the tournament.
Throughout the season, the Bears have been riddled with injuries, losing players such as team captain Miller and forward Khalil Turner. Despite the injuries, the team has played the next-man-up mentality for the majority of the season.
Broadus acknowledged the fact that the team has been plagued with injuries all season.
"A couple points in the year, we were down seven, eight guys," he said. "It was hard to practice but we made no excuses."
Broadas added, "I told our guys, 'Nobody feels sorry for us. It's a part of life.'"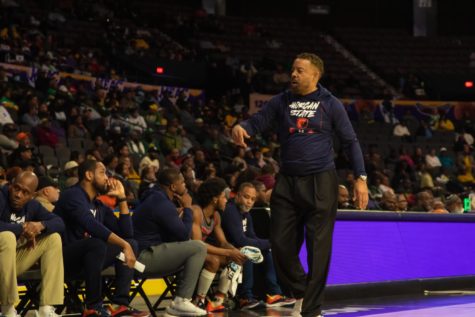 The Bears' leading scorer was guard Isaiah Burke who finished the night with 17 points, five assists, and three steals. The senior guard did what he could throughout the season and amongst other players in the starting lineup such as Kamron Hobbs and Lewis Djonkam.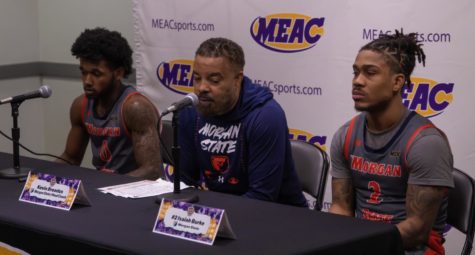 Burke did all he could on the court, but his efforts were not enough. He reflected on the loss after the game.
"I'm going to literally just use this loss as motivation for everybody that I was playing with," he said. "People that are still going to come back or, if not, I'm going to just be that big brother and that role model from my teammates."
Morgan committed 25 fouls in the game. They had three players in foul trouble; compared to the Hawks' 12 fouls overall. The Hawks scored 26 points off turnovers and converted their free throws down the stretch.
Every time there appeared to be a glimmer of hope for a comeback from the Bears, the Hawks dashed those dreams with a dunk or a short jump shot.
It was not the ending the Bears envisioned, but the team demonstrated its grit and hustle once again against insurmountable odds. 
"Have fun the rest of the tournament without Morgan," Broadus said. "It's been tough, but we'll be back."