Celebrating George McMechen, Morgan's first graduate
This Black History Month, the Spokesman recognizes the significance of George W. F. McMechen, civil leader and the recipient of Morgan's very first baccalaureate degree.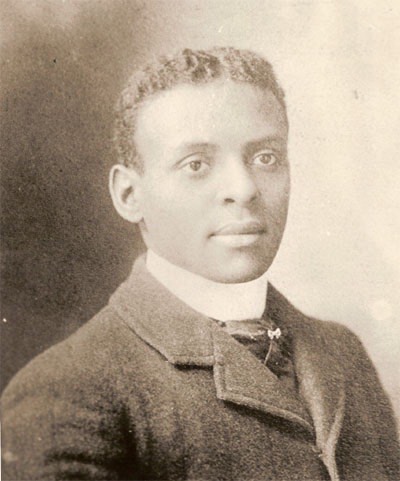 George W. F. McMechen was born in the small town of Wheeling, West Virginia on October 29, 1871, to George and Mildred McMechen. He was the middle child of five, with two older brothers, one younger brother, and one younger sister.
In 1895, McMechen was awarded Morgan's very first baccalaureate degree. Since then, at least one member of each generation of his family has graduated from Morgan, said Michael Richardson, McMechen's great-nephew. McMechen pursued his passion for justice at Yale Law School, where he was one of the first Black graduates. 
"The fact that he was our first liberal arts graduate and he was able to leave Morgan equipped [with] the competence and academic ability to make it through the Ivy League at the turn of the century, speaks a lot to the preparation and training that he got at Morgan," said Edwin Johnson, special assistant to the Provost. 
McMechen was a practicing lawyer in Evansville, Indiana before his admission to the Maryland bar on May 10, 1904. While in Evansville, McMechen likely met his wife, Anna Lee Mason, as he lived on the same block as her father.
After returning to Baltimore, McMechen formed a partnership with William Ashbie Hawkins, another prominent Black lawyer. 
Their firm, "Hawkins and McMechen," bounced around before settling at 14 E Pleasant St in Baltimore around 1920. They owned the property together at a time when it was almost unheard of for Black people to own property in Baltimore, especially downtown.
Their office was part of what Tania Araya, McMechen family historian, believes was known as the Banneker Building, one of, if not the first building dedicated to Black professionals in Baltimore.
Now, 14 E Pleasant St appears to be the address of a basement door next to what is now home to TBMG Law and BROOKS LAW LLC at 12 E Pleasant St, or "The Houston – Marshall Law Building." 
McMechen and Hawkins were both pioneering civil rights attorneys. A lot of their work was focused on finding justice for poor Black Baltimoreans, especially Black maritime workers, Araya said. "He really believed in justice and helping people see justice, whatever that meant to them," she said. 
In 1910, McMechen moved to 1834 McCulloh Street with his family, a property he leased from Hawkins, where white Baltimoreans threw bricks through their windows and skylight. 
In response to McMechen and other Black families migrating to the white neighborhood, the city passed an ordinance stating "No negro may take up his residence in a block within the city limits of Baltimore wherein more than half the residents are white" and more. 
The ordinance was the first of its kind in America and was drafted by Milton Dashiell, a white lawyer who lived on McCulloh Street, who cited fears of a potential decrease in property values. 
Racial zoning was ruled unconstitutional in 1917, but it didn't stop the city from utilizing racial covenants to maintain neighborhood segregation.
"A lot of the cases that they took early on battl[ed] apartheid in Baltimore," Johnson said. 
Johnson emphasized the significance of their activism. "I'm a firm believer that you know, there would be no Thurgood Marshall had there not been a George McMechen or a W. Ashbie Hawkins," he said. 
The duo worked together until Hawkins passed away in 1941 at age 78. McMechen continued a career in law, accumulating many achievements along the way. 
He was the first Black member of the Baltimore school board, the first Morgan alumnus to donate $1,000 to their alma mater, and the first Baltimorean to become grand exalted ruler of the Elks.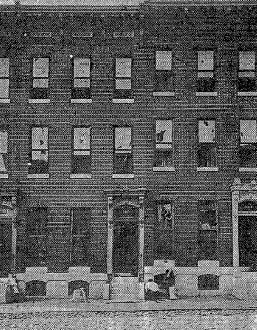 "He was a very well-liked man in Baltimore," Araya said of her great-grandfather. "He loved to joke around but was really serious about helping others achieve justice" she continued. 
McMechen was a member of Morgan's Board of Trustees and held close relationships with students, often inviting students over and hosting the football team for lunch after church. He was also one of the early members of the graduate chapter of Pi Omega Chapter of Omega Psi Phi Fraternity, Inc. 
Construction began for McMechen Hall in 1972, and was made the original home of the Earl G Graves School of Business and Management in 1996. Baltimore is home to George W. F. McMechen High School, however the Baltimore City Board of School Commissioners approved its closure in Jan. 2020.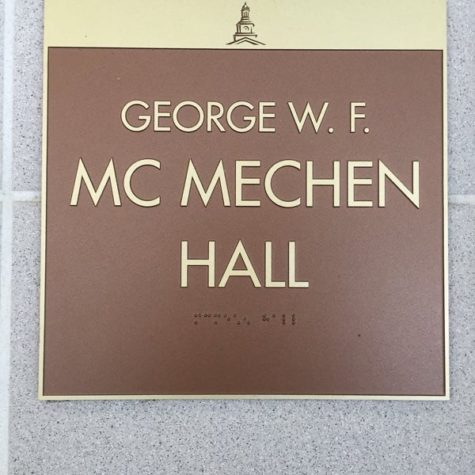 McMechen passed away on February 22, 1961, and has remained in the hearts of the Morgan community since he first passed through our campus. A funeral service was held for him on campus and he was buried in Arbutus Memorial Park in Baltimore. 
McMechen represents everything that Morgan stands for: kindness, perseverance, and a dedication to equality by any means possible. His activism helped shape the school and community we love today, and his significance to both Baltimore and Morgan could never be overstated.