Bears prevail over Hornets at HBCU Invesco QQQ Legacy Classic
Despite past injuries and back-to-back losses, the Morgan State Bears defeated the Delaware State Hornets 75-65 on Saturday in front of a national audience.
NEWARK, N.J. — The Morgan State men's basketball team needed a win this Saturday and got one in a fashion that coach Kevin Broadus has asked for all season.
The Bears (12-11, 5-2) played together and ended a two-game losing streak with a 75-65 victory over Delaware State (4-17, 3-5) in the Invesco QQQ Legacy Classic HBCU Invitational matchup at Prudential Center. Their bench outscored the Hornets with 29 points on 21 turnovers and they outscored their opponents 44-26.
They played together on a grand stage in front of a national television audience on TNT. They forced turnovers, overcame a shortened roster and simply performed better in front of host Michael B. Jordan, who organized this invitational tournament for HBCU teams.
Jordan, an actor and director, invited Delaware State, Hampton University, and Norfolk State University along with Morgan to highlight the accomplishments of the schools and showcase the talents of their athletes. He invited their bands, mascots, and students to participate in the festivities.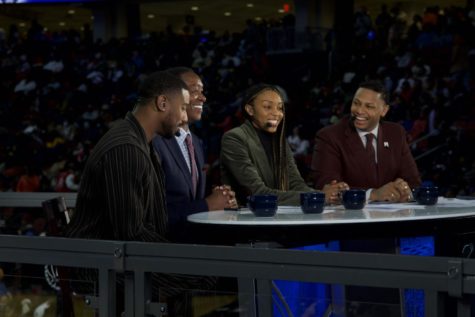 University President David Wilson sat courtside at the game and sported his Morgan blue hat. Others from around the region were in full-throated support of the Bears.
The event marks the third HBCU appreciation game Morgan has participated in the past two seasons. Broadus remarked at how much the landscape has changed for HBCUs.
"It's a beautiful thing," said Broadus, who attended two HBCU schools as a student athlete, Grambling State University and Bowie State University. "We have come a long way."
He added, "Back when I played in the 80s, we didn't have a platform. Now we have a platform. And I think we are taking advantage of it. It's not just Morgan. It's all HBCUs."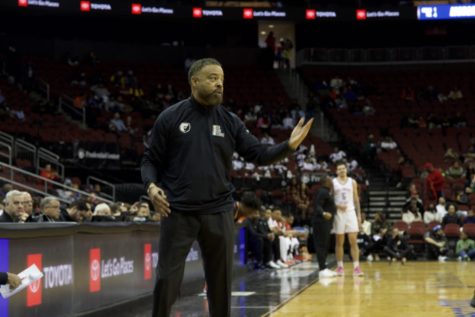 The Bears entered the game on a two-game losing streak, one of those losses came to the Hornets last Saturday 64-62 from a game-winner in the final seconds by Hornets guard Martaz Robinson.
This time, the game had a different outcome. The Bears led at halftime and never relinquished the lead in the second half. They were dogged on defense forcing 21 turnovers. They rank third in the nation in turnovers forced.
The Bears were led by sophomore guard Kameron Hobbs, who finished the game with a season-high 24 points, five rebounds, and three assists.
The Bears played without their captain of the team, Malik Miller, who is out for the season due to a torn ACL he suffered from in the team's game against Howard University. Others are also out with injuries, leaving the Bears with a seven-person roster.
"It's cliché 'next man up,' but it's real," Broadus said.
Injuries have opened opportunities for others, he said. Some new faces have been drafted into the starting rotation and off the bench.
The Bears are now 2-2 without their captain after their win against Delaware State.
With Miller out for the season, the team has had some of their players step up in scoring.
Hobbs was not the only player to have a big game. Graduate student Lewis Djonkam had a big game as well, finishing with 18 points, nine assists, and two rebounds.
They also had help from senior Isiah Burke, who had a slow start to the game but finished with 11 points, 3 rebounds, and 3 assists.
Hobbs shot 60 percent (9-15) from the field, 50 percent (4-8) from three-point range, and 100 percent (2-2) from the free-throw line.
Djonkam shot 73 percent (8-11) from the field, and 29 percent (2-7) from the free-throw while Burke shot 28 percent (5-18) from the field and 16 percent (1-6) from three-point range.
"It feels good just to get the platform," Hobbes said. "And showcase what coach has been drilling into us whole season. It feels good just to show the work."
Djonkam has emerged as a starter with so many injuries to teammates. He was all smiles at the postgame press conference, pleased to have an opportunity to showcase his skills. He knew eyes were watching.
"It's a blessing," he said. "I have family in Cameroon. I have family all around the world who get to see this."
Morgan travels to Durham on Saturday to face North Carolina Central (10-11, 3-4).