"I'm going to shoot up HR": Man threatens Morgan's campus
A man threatened to "shoot up" Morgan's office of human resources after he did not receive a job at the university's food vendor, SodexoMagic.
A man threatened to "shoot up" Morgan State University's Office of Human Resources Tuesday morning after the university's food vendor, SodexoMagic, rejected him for an available position according to a campus-wide email from the Morgan State University Police Department.
The email also stated that Quintin Tyrell Stewart, 32, made a phone call to the office at 11:15 a.m. to voice his displeasure after he was not hired and said, "I'm going to shoot up HR."
Morgan State University Police Department responded promptly to Calvin and Tina Tyler Hall, where the Office of Human Resources is located, to investigate and alleviate safety concerns. 
Larry Jones, assistant vice president of public relations said MSUPD contacted Stewart after the threat and asked him not to come to campus. Jones also said Stewart was never on Morgan's campus.
MSUPD determined that there is no longer an active threat to the university. However, Stewart is not in custody and no arrests have been made.
Stewart was previously charged with a threat of mass violence in November 2021, along with other criminal charges.
Stewart posted on his Instagram story around 11 a.m. and only minutes before making the phone call. The post reads, "I can become a highly dangerous individual," with a location tag in the Baltimore area.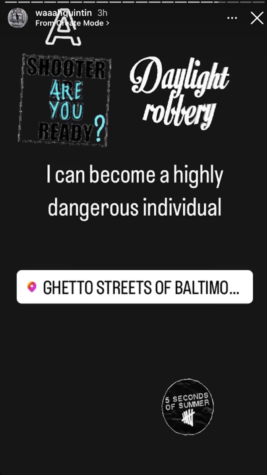 He also posted "Leave a body up Morgan today" on his Facebook story on Tuesday.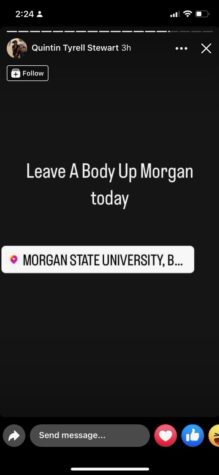 Morgan stationed MSUPD officers outside of the building and surveyed the grounds. Police presence was heavily increased on campus following the threat.
The Office of Human Resources allowed faculty members to work remotely following the threat to the department, according to Jones. Tyler Hall was not evacuated. 
Confusion filled Morgan's campus Tuesday afternoon. Many faculty and students were unsure whether there was an active shooter on campus or if Stewart was apprehended.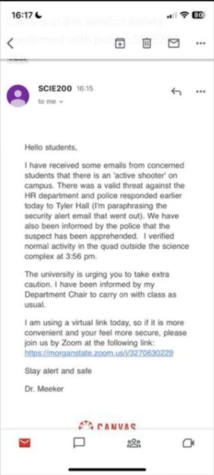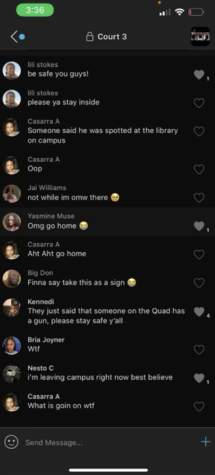 Though they caused campus-wide anxiety, Stewart's threats proved to be empty. MSUPD is conducting an investigation of Tuesday's incident.
"While there is no imminent threat to the campus, the campus community is asked to remain observant and continue to adhere to safety precautions," Jones wrote in a university statement.