Wes Moore makes history as Maryland's first Black governor 
Maryland's newest elected leaders celebrated their historic wins at the Baltimore Marriott Waterfront Tuesday night, including the state's first Black governor.
It was a historic night in the state of Maryland as the midterm election ended in victory for Wes Moore, Maryland's first Black governor.
Moore was projected as the winner by the Associated Press after winning almost 60 percent of the Maryland vote by Tuesday night.
Moore celebrated his win at Baltimore Marriott Waterfront in Downtown Baltimore. He was joined by hundreds of his supporters, including his close friends and family. 
As Moore's name was announced, he walked in with his wife, Dawn, and two children to greet a pool of supporters below the stage.
He stood with a smile on his face looking over the room full of people celebrating his win. 
"I will be thinking about you and all the people that we have met during this campaign, every single day that I have the honor of serving as your governor," Moore said.
As the first Black governor of Maryland and the third Black elected governor in the nation, Moore steps into his term with the country's notice on him.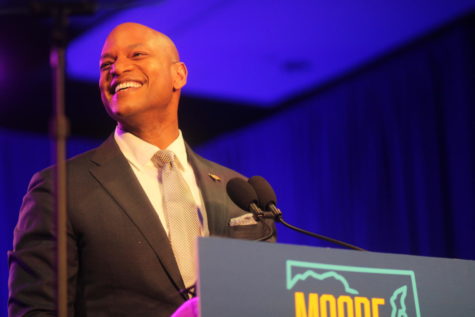 Along with Moore, his running mate Aruna Miller's election makes her the first immigrant elected to statewide office in Maryland.
"It's not lost on me the profoundness of this moment, being elected as the first immigrant to a statewide office in Maryland," Miller said. "And make no mistake, I know that as an immigrant, I would not be standing here before you if it were not for the courage of those before me, who fought for our nation, our freedom and our democracy."
What's next for the Moore-Miller team is the execution of their campaign promises, which includes resolving the racial wealth gap in Maryland, increasing wealth for Black families, protecting reproductive rights and integrating immigrant communities.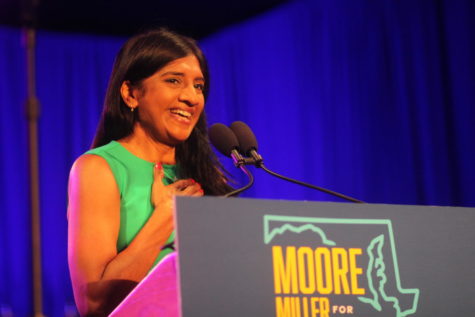 Moore's win was followed by a load of historic wins, breaking racial and gender barriers in Maryland's elected positions.
Along with the first Black governor, Maryland made history by electing Anthony Brown as the state's first Black attorney general. 
"This campaign isn't about me and my family. It's about you and yours. It's about the six million Marylanders while I have the privilege and the responsibility to serve as Attorney General," said Brown.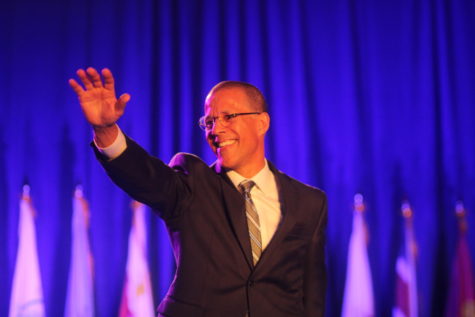 In another historic win for Maryland, Brooke Lierman won the statewide election for comptroller, making her the first woman to fill the position in Maryland.
Following her election as comptroller, Lierman thanked the women in the state of Maryland and community who supported her during her campaign.
"It's time for a woman to run the money in Maryland," Lierman said.
The collective wins led to a wide celebration in the crowd in support of Maryland's new leaders. 
Chris Van Hollen shared his confidence in the new leaders of Maryland after his projected win as U.S. Senator.
"This is a historic day, Maryland. Weattended are making history. That we know. Here's what else we know: I know that we're going to work together as team Maryland to advance the priorities of our fellow Marylanders" said Hollen.
Lisa Thornton, a close friend of Moore, said, "It's really important to have our views represented at the table, to have the decision maker be a Black man who will represent all the people, but we know that he understands. He gets us and knowing that just really moves me."
Blue and yellow balloons filled the room as confetti went off, surrounding Moore and Miller as they acknowledged their victory.
David Wilson, Morgan State University president, attended Moore's election night event Tuesday night and celebrated the victory with the governor-elect.
He expressed his pride to be a Marylander following the results of the election.
"This is what the future of Maryland and the nation will look like and Maryland is leading the way. I was quite excited to be a part of history today," Wilson said.